Hog Roast Aldershot has developed a new and exciting menu to tantalise your tastebuds! It entails a rather delicious appetiser, an incredibly tasty main course, and an indulgent dessert. Other than the guaranteed mouth-watering food and amazing service, this menu is served on eco-friendly bamboo crockery with bamboo cutlery for guests to experience a more ethical and rustic dining experience. Hog Roast Aldershot calls this menu their 'Alfresco' menu.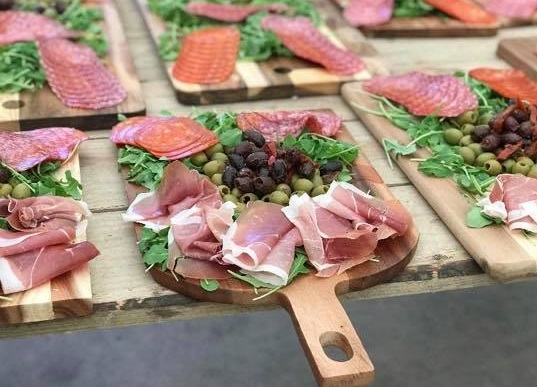 What should you be getting excited about? Well to start with, the appetiser entails a rather tempting and flavourful antipasti board. Antipasti boards are filled with gourmet meats and cheeses including prosciutto, salami and parmigiano. To enjoy these fine foods, artisan breads and bread sticks are served with the dipping accompaniments extra virgin olive oil and balsamic vinegar. To complete the board and make it even more of a delicious spread mixed olives, rocket and sun-dried tomatoes are also added. The beautifully displayed culinary masterpieces will be served either on bamboo or wooden platters to your guest tables, keeping with the rustic vibe.
Now to be excited about the main course! A whole pig slowly roasted on low heat for 8 hours guaranteeing succulent pork and the crispiest crackling. The juice pork is enjoyed in a soft roll with flavoursome sage and onion stuffing and finished with a spoonful of sauce. Hog Roast Aldershot understands that different people have different preferences so therefore provide a selection of bread rolls including cheesy and a selection of sauces including the traditional apple sauce as well as the new favourite, sweet chilli. The heavenly roll is served with three salads: Italian-inspired cherry tomato and buffalo mozzarella with fresh basil leaves and a drizzle of extra virgin olive oil, seasonal leaves mixed salad and zesty coleslaw. All three salads are freshly prepared by on-site chefs combining texture, colour, and flavours to bring the guests food to indulge on! A potato option is also served, choosing either roasted new potatoes infused with garlic and rosemary or buttered new potatoes served with fresh chives, both as equally tasty as the other.
To finish, enjoy a sweet treat! All Hog Roast Aldershot desserts are served with cream. You could enjoy a chocolate delight or something more zesty and light!
Browse through your options and book now as summer fast approaches as well as our freedom!