At Hog Roast Holyhead we don't let anything stop us from doing what we love; not the weather, not a pandemic – nothing! So even when the temperature plummeted below -8°C last week, our catering unit could still be spotted out on the snowy streets of Yorkshire, as our team made their way to drop off some of our luscious spit roast deliveries to clients, and machines that had been rented for special occasions. Plus, we even got the chance to attend a farmers market into the bargain.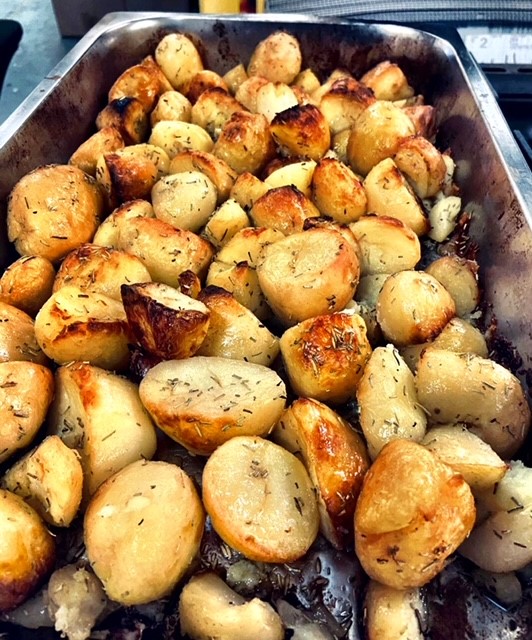 After receiving word that one of our favourite local markets was still going ahead, Hog Roast Holyhead's catering manager, Jon was as keen as ever to get involved. Of course, social distancing and lockdown measures resulted in there being some very strict rules for the event, but the organisers were more than happy to have us along for the day, knowing that we have completely overhauled our services to meet the current health and safety demands.
So, on Wednesday, after loading up the van with all sorts of fresh produce, cooking utensils and a huge hog, the Hog Roast Holyhead catering crew travelled through the blizzardous snowstorm to the market location. Once there, they wasted no time in getting the gazebo set up and the pig into the HogMaster, which roared into action straight away and began cooking the meat.
The succulent aromas from the juicy pork soon filled the air, acting as a beacon to everyone within smelling-range that the food was near completion. As the skin rendered into a crisp, crunchy layer of crackling, Hog Roast Holyhead quickly set up a row of condiments next to the chafing dishes, which overflowed with homemade sage and onion stuffing and the vegan option of grilled veggie skewers, before slicing open the gluten-free rolls ahead of the serve.
Working to keep the queue to an absolute minimum at all times, Hog Roast Holyhead worked quickly and smoothly to serve the guests, who approached in small bubbles to collect their takeaway. We're pleased to share that the food was a smash hit, with everyone complimenting the rich flavours and tender meats!