Have you been thinking of buying your own hog roast machine lately, whether to use at home for you and your family, or for business reasons? If so, you really can't go wrong with Hog Roast Romford. We've spent many years in this business, and not just catering ourselves for our customers, as we make our own hog roasting machines, which we hire out and also sell all over the world. Our experts hand-build our top-of-the-range, high-quality, stainless steel machines in our factory in Lancashire and they're ones that we designed ourselves and have perfected over many years. Regardless of your needs, one of ours will be a great decision, and not only for hog and spit roasts…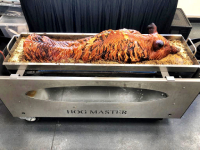 We designed our machines to work like conventional ovens, so you can use them to cook all kinds of food, like you normally would in your kitchen oven, so you could be roasting a succulent hog on top while cooking various seasonal vegetables and potatoes inside, or you can add piles of jacket potatoes or you could even cook a pizza in there if needed! They're so versatile that you even can use our attachments to barbecue meat instead. It's all so easy with one of our own range and our experts can help you to choose which one is best for you and your requirements. We sell both new and used equipment (and not just our own brand, as we want to give you various choices to suit you), and we even offer finance options.
One of our long-term Hog Roast Romford customers, Charlie, first came to us several years ago and bought one of our smaller machines to use with his catering business. Since then, it's gone from strength to strength and he's seen a much higher demand for hog and spit roast catering, so over the years, he's added more machines. Charlie came to visit us yesterday in order to buy one of our bigger machines, the Platinum, to use for his larger events.
Do feel free to give us a call to book an appointment with Hog Roast Romford to visit us at our factory and showroom – and our professionals will help you to decide what's best for your needs, so why not give us a call and head down there today!