Wouldn't it be great to just be able to whip up a hog roast anytime you want? Obviously we here at Hog Roast Conisburgh love coming out to you to get a whole stylish affair going, but even we know that sometimes you'd rather do away with the fanfare and just get a simple hog roast down on the table for you and the family. In which case, thankfully, Hog Roast Conisburgh can still help! We've got a variety of machines available for rent or even purchase should you want to commit to a life of perfect pork roasts – and why wouldn't you?! But which machine to pick? Well, let us help you out just a little.
Y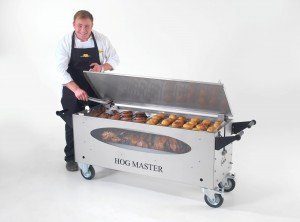 ou're going to want to consider the scale you are hoping to cook for typically, and what sort of environment you are looking to be in. If it is at home cooking, or if room could be an issue we'd recommend our smaller units. The Hogmaster Pro is an ideal one here, proving to be versatile and efficient even in a smaller unit. You can get the tastes you crave on a slightly smaller scale with complete ease with this one! If you want to up the scale however then the classic Hogmaster might be more your type of machine, retaining the same versatility and brilliance but on a bigger block.
For commercial purposes the Titan is an undisputed champion. It is simple brass tax cooking with the Titan model, making hog roasting straightforward and easy. It's our ol' dependable here, and one of our favourites.
If you're wanting to spread your choices a bit more than the Platinum machine is the ultimate in versatility. This machine does not know limits, with attachments allowing you to take up a variety of cooking styles all at once. Put together barbecues, or get full chicken drums cooking up simultaneously in the proper spit roast style. It's all possible when you live Platinum.
Whatever your style Hog Roast Conisburgh will get you set up right – we'll even offer to give a little training too! Once you've got your hog roasting machine you won't ever look back again, it's an all-new lifestyle of luxury and brilliance!