Christmas dinner is arguably the most important meal of the entire year, so it's understandable that we collectively look forward to it months in advance. For many families, it's one of the few rare occasions where everyone is free to sit down together and indulge in some comforting festive flavours.
If you're the one in charge of cooking, though, it can be a nerve-wracking and stressful experience – and not just on the day of. Since there's a lot of pressure on the host to get everything right on the day, thus ensuring that everyone has the perfect Christmas, the preparations start long before Xmas arrives.
In the weeks leading up to the festive period, you'll likely spend a small fortune on kitting out your kitchen cupboards with crackers, biscuits and condiments and filling the fridge and freezers to the brim with meats, cheeses, the obligatory Viennetta, Brussel sprouts and plenty of bottles of fizz. You might even feel challenged to try something new and complicated to impress your guests.
But what if we told you none of that was necessary? That you could have the best Christmas ever and not have to worry about what's going on in the kitchen?
By hiring Hog Roast Caldecott to handle Christmas dinner this year, you won't have to lift a finger. Nope, not even to do the washing up!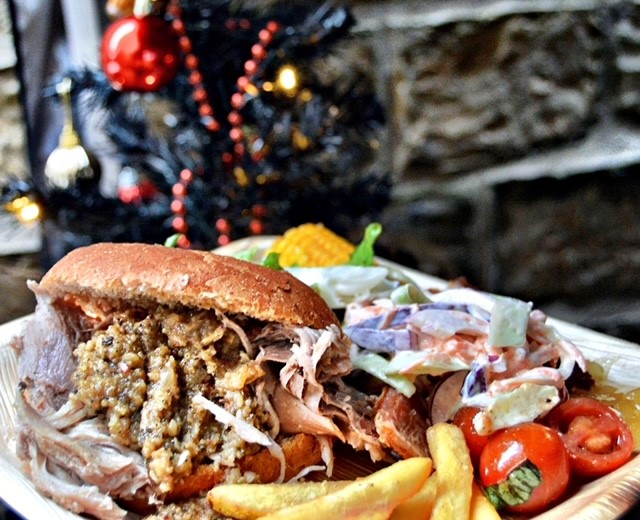 Our team would be more than glad to treat you and your loved ones to Hog Roast Caldecott's spectacular Festive Menu, which offers you the option between a traditional turkey dinner with stuffing and cranberry sauce or a show-stopping hog roast with all the trimmings. Both options are guaranteed to be juicy and bursting with flavour, thanks to our talented chefs who are a dab hand at creating irresistibly fork-tender meat. If you're expecting veggie and vegan guests, we can also offer a choice of meat-free options, which are so delicious that even the most avid meat lovers will want a taste!
Our menu includes a list of seasonal sides, too, such as pigs in blankets, roasties, glazed vegetables, cauliflower cheese, and for dessert, traditional mince pies with brandy butter.
To get all of this and more, for a price that can't be beaten, call Hog Roast Caldecott today and get your Christmas dinner sorted in no time!