Here at Hog Roast Bolton Abbey we love to see our clients taking an interest in our cooking process. Many people find that the art of hog roasting is a lot simpler than they imagined and we often find ourselves informing people that this is due in large part to the equipment we use. All of our Hog Roast Bolton Abbey catering teams rely on our hand crafted hog roast machines that we design and manufacture in the heart of Lancashire. Each machine is built to last and lovingly handcrafted to our exact specifications meaning we can put our trust in it to provide excellent roasts every single time.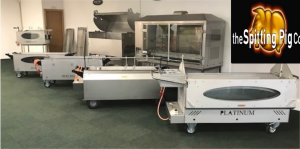 As the manufacture of a large range of hog roast machines and the proprietor of the largest hog roast catering franchise in the UK, we can offer you the perfect environment to learn about which hog machine to purchase and train you with the ins outs of running a hog roast catering business.
What's more is that we offer all of our clients an opportunity to try before you buy. By hiring out one of magnificent machines you can get a taste for hog roasting before investing in a machine of your own. Once the hire period is over there is absolutely no obligation to buy and we are more than happy for our customers to try out the whole range of Hog Roast Bolton Abbey equipment as we believe this helps to make sure all of our customers are pleased with their purchases.
If you do choose to hire one of our machines you will be invited to visit our showroom whereby we can offer you the full range of hog roasting equipment as well as give you demonstrations of how each of the machines operate. Many of our customers are pleased to learn that the machines all have such intuitive designs that mean anyone can produce a delicious Hog Roast Bolton Abbey with each of our machines!