We've just come back from catering an exciting bike night. No, it wasn't an evening for bicycle enthusiasts (though there's no doubt that these groups also exist and love a good hog roast Chippenham!) but this one was for bikers of the motorcyclist sort. In fact, it was a group of Harley Davidson owner-riders who requested that we provide our succulent hog roast Chippenham for an outdoor event, which we thought was very apt, seeing as Harley motorbikes are also nicknamed hogs. Funnily enough, Harley-Davidson also has an official riding club name HOG, which stands for Harley Owners Group, and the party was being attended by several members, so on this particular evening it was certainly hogs all round, and we were there to cook up a good old tasty feast of one.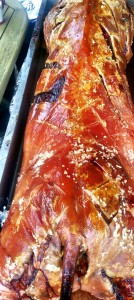 Michael had organised the event for him and his friends, and told us it was a gathering to celebrate several things, including his partner's birthday, a new baby and even the fact that he had bought a new hog and wanted to show it off! While we can cook all kinds of spit roasts, it was a unanimous decision that only a hog roast Chippenham would do tonight, so our team arrived at the private venue early this afternoon, bearing a beast of a pig to roast for several hours.
Once cooked gorgeously, we let the hog rest for some time, while we cracked on with slicing the bread rolls and sorting out all of the extras. Hog roast rolls were on the menu tonight, which meant generous helpings of pork and crackling crammed into buns and topped with apple sauce, sage and onion stuffing and the guests' choices of condiments. The wind had picked up tonight, but thankfully it had stayed dry.
It was about time to serve when the bikers all roared into view, but not before Michael showed off his brand new motorbike, beautiful new baby and then wished his other half a very happy birthday (and it was in that order!) As lots of hungry guests queued for more helpings, Michael thanked us for helping him to host a fantastic night and then he hopped on his bike to show everyone what it could do.