When Amanda and Lee met and fell in love, they simply knew that they wanted to spend the rest of their lives together. Celebrating their engagement with a hog roast Hessay feast would be just the ticket, with family and friends travelling far and wide to commemorate the occasion with them.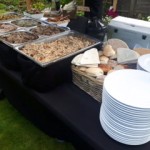 A hog roast Hessay is ideal for this kind of gathering as well as just about any other, and our past catering gigs are a testament to that; we've supplied hog and spit roasts to birthday celebrants and wedding couples, for families on the day of a christening and even to honour the signing of divorce papers! Whatever you have in mind, and whether it's being catered indoors or outdoors, a slow-roasted animal or bird of your choice can be a sight for sore eyes, with divine tastes that will give you and your guests memories that you'll remember for years to come.
Our team arrived at the beach venue early yesterday to roast a winter warmer hog roast Hessay for the couple. We were aiming for a lunchtime service and a medium-sized pig like this would take several hours to cook to perfection. After setting up the gazebo, serving station and hog roast machine, we set to work preparing the meat for its roasting. Scoring it and adding water and salt is the most common way we do this, with the latter step ensuring a crispy skin for the crunchy crackling that our customers tend to love. Once done, all we needed to do was set the temperature and watch over the beast as it cooked.
As part of the winter warmer menu, you get to choose your veggies and potatoes, and Amanda and Lee asked us to roast together a medley of baby carrots, Brussels sprouts, celeriac and sweet potato, sprinkled with olive oil. We freshly prepare everything on-site, so we washed, peeled, chopped, and sliced and then they were all added to the hog roast machine to roast away, too.
Soon enough, it was time to serve the happy couple and their guests, and it was a wonderful sight to see everyone enjoying our delicious fare.