Elaine recently hired one of our formidable Hogmaster machines for a food festival and she has just been back in touch to let us know how well it went! She owns her own catering van and is a regular on the local food festival circuit, but with the sweltering weather guaranteed to bring the crowds, she was looking for an alternative catering option that would allow her to be able to enjoy the sunshine and chat to her customers instead of being cooped up in her van. She also anticipated she would be feeding a lot more people than usual and she was concerned her regular cooking methods would make her struggle to keep up with the pace. Taking all this into account, and after being recommended by a fellow foodie, she decided to hire one of our hog roast machines for a day to try it out.
We directed her immediately towards the Hogmaster, because it is so user-friendly, it will help even a hog roasting novice to prepare the perfect meat for 100s of hungry people! This was exactly what Elaine was hoping for and she certainly wasn't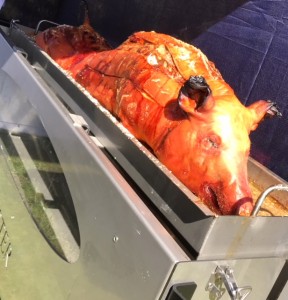 disappointed! As predicted, she was inundated with orders, but thanks to the Hogmaster and its capacity to cook a 75kg pig in one go, she handled it with ease and received some great feedback from her happy diners! Elaine also loved the fact that even though the food orders were flooding in thick and fast, she actually felt less busy than she normally does, because the Hogmaster did most of the work for her! She said it was great for her to be able to strike up more of a rapport with her diners because she could cook right next to them in the open, instead of being stuck behind her usual counter. The glass-fronted panel in the Hogmaster also allowed everyone to see the meat cooking, which whetted their appetites even further!
After just one day in its company, Elaine is well and truly hooked on the Hogmaster and feels it is the piece of cooking equipment she has been looking for through her whole culinary career! She has now placed an order with us to purchase one for herself and she can't wait for it to arrive!