We have just received a very excited email from Martin, the manager of a local golf club, who recently bought one of our Hogmaster machines! We always love getting feedback from our happy clients, especially people like Martin who seems to have fallen in love with our Hogmaster machine overnight! He had been thinking for a while about ways to revamp his summer menu and find a sociable way of cooking outdoors that could produce the high- quality food his members expected. He never thought in a million years the answer to his catering dilemma would be a hog roast machine, but that was before he became acquainted with our awesome Hogmaster!
Martin explained in his email that it was everything he was looking for, in functionality, value for money and appearance!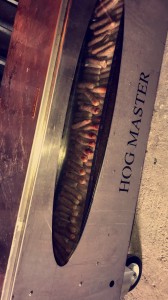 Robust enough to cook a 75kg pig that could feed a lot of people fantastic quality meat without denting his profit margin, as well as having such a sleek design, that it was the perfect centrepiece for his elegant, manicured club house garden! Martin's Head Chef was a bit nervous about using the Hogmaster at first, as he was a hog roast novice, but the Hogmaster is so easy to use, that from his very first attempt, he produced the most succulent meat he had ever cooked! Martin is always full of praise for his Chef, but he thinks it had more to do with the machine than the man on this occasion!
Martin told us he received great feedback from his diners from the outset, and even more so when he started experimenting with cooking different meats using the same method. His beef, chicken and lamb dishes were cooked with equal success and it was all thanks to the versatility of the Hogmaster! Speaking of versatility, as an added bonus, Martin was thrilled when we explained to him that he could also use it indoors during the winter months because its compact design allows the Hogmaster to fit easily into any professional kitchen. For now, Martin is extremely happy cooking alfresco, but he's also looking forward to using his Hogmaster to prepare unbeatable roast dinners during the winter season!
Thanks for the great feedback Martin, we're glad you and all the members of your club are so happy with the Hogmaster!