With so many years of hog roast catering experience at Hog Roast Bath, you might think we treat all of our catering jobs as 'just another day at the office' but that is where we will correct you. Most events we cater for such as weddings, christenings, special birthdays etc are days that are very important in the hosts life, therefore we make sure that's it is just as important to us too. That starts from the day you enquire with us, making sure you have the correct menu, and then the lead up to the event, liaising with you regarding timings and your event location to ensure everything runs smoothly.
You might also think we just turn up, turn our machine on and we are set to go? But you will be surprised to hear there is a great deal of preparation and thought that goes behind all of our catering events, not to mention the number of hours that we have to cook a hog for until it is perfected, of course with our signature crispy crackling that everyone loves! Damian was just as shocked to hear about all of this when he booked us to cater for his workforce as a thank you.
It was a Friday when Damian wanted to treat his employee's, right before their long bank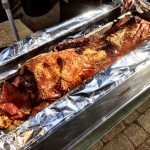 holiday weekend off! Damian has a workforce of 30 lads who all take part in manual labour so Damien knew that booking us at Hog Roast Bath would be a winner in their eyes. He had arranged for delicious pulled pork rolls and also burgers to be provided for his staff and as they would all be very hungry he wanted there to be enough for 2 rolls for each of the lads with a choice of a burger too. We needed our hog to be cooked for a 12pm serve time so we were up in the early hours of the morning to set our machine roasting and to make sure we had everything that we needed to feed Damian's workers.
We arrived on site around 10am to set up our gazebo and make sure everything else was ready for 12pm and it soon as it hit 12pm the guys raced out to be one of the first to get their Hog Roast Bath rolls! The food went down brilliantly, Damian and the lads all loved the food and we had a great few hours in their company.