It may seem a little daunting if you're thinking of cooking your own hog or spit roast for the first time ever, but rest assured, if you hire from us, you will be able to benefit from our vast knowledge and years of expertise. Our hog roasting machines are actually ever so simple to use – as simple as turning them on and setting the temperature – which is how we designed them. We build them from scratch in Lancashire and we welcome you to come and have a look round our state-of-the-art factory, where you can meet our staff and even see our equipment being made.
One customer who recently dropped in for a visit was Max, who was thinking of buying a machine for himself, despite not being a professional caterer. We have plenty of domestic customers, many who ask us to cater functions and some who rent our machines for DIY roasts, but there are some, like Max, who want to buy machines to use themselves. This often surprises people, as a machine can be a big investment and you may wonder why you would need a hog roast machine at home. However, one of our machines can literally cook you a full meal, and, over time it can work out cheaper than using your kitchen oven!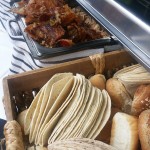 As we explained to Max, you can cook your choice of meat, vegetables, and potatoes all at the same time, using one of our range of gas-powered machines. We have a full range of machines to suit both domestic and professional caterers, and they vary in size and cooking capabilities. We sell a budget Hogmaster machine, the Hogmaster Pro which is great for home cooks, our popular Titan, the Platinum which can roast two pigs simultaneously and the almighty Olympian, which is great for outdoors or indoors.
Max was interested in the Hogmaster Pro, and watched one being built in our factory. Having rented hog roast machines himself in the past, he is already comfortable with using them, and after discussing all his options, he decided that day to buy his own Hogmaster Pro, and we're sure he won't be disappointed.