We love catering any kind of party or event but for me, a kids' birthday party is where it's at. Combined with a delicious hog roast Loughborough, a children's birthday party tends to be full of joy, with cute, giggling kids and lots of crazy fun. For Alisha's party for her 8th birthday on Sunday, her parents had invited around 30 of her friends and their parents to enjoy a winter warmer hog roast Loughborough of ours at a local village hall. They requested the winter warmer to help keep everyone warm inside, as they would all be eating inside even though we would be cooking the roast outdoors. The main feature of the hog roast Loughborough would be served buffet-style, with the guests queueing up outside to get their fill and then taking the food inside the hall to eat.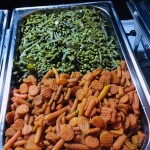 A winter warmer is one of the best ways to enjoy the comfort food of meat and veg at this time of year. We use higher quality disposable plates to fill with yummy pork slices and crispy bits of crackling, your choice of vegetables and potatoes and gravy if you like, too. For the latter, Alisha's parents ordered courgette, carrots and butternut squash to be roasted alongside new potatoes, and for our homemade onion gravy to be poured over everything. For two vegetarian guests who could still enjoy the potatoes and veg as they were cooked separately, we would also provide a homemade mushroom bake. Everything is cooked from fresh on the day at the event, and we use quality ingredients every time.
Our team went along to the venue on Sunday, with a medium-sized hog and our equipment to set up. It was chilly outside but we soon warmed up with the heat from the roasting pig, which I had scored in diagonal shapes, added water to and then rubbed salt in the skin to make that crunchy, crispy crackling. This pig would take around 5 hours to cook, so we set the machine going as soon as possible. Before we knew it, it was time to dish up the apple sauce and stuffing and then slice into the beast to serve lots of hungry tummies.