New to the hog roasting industry?
What better place to buy your hog roast machine than from the Spitting Pig, we manufacture our own hog roast machines that we use across our full franchise covering the whole of the UK day in day out. Catering for hundreds/ thousands of events per month, our machines are the best in the business. However, you might not want or need a brand new hog roast machine? This is where our approved used hog roast machines are fantastic, especially for those who are brand new into the industry and are finding their feet amongst the very busy hog roast world.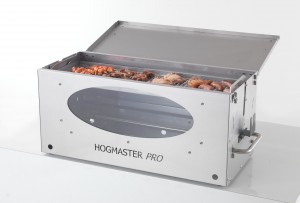 Our most recent customer Jane, bought her used Hogmaster Pro from us last month. The Hogmaster Pro was in fantastic condition and had only been used a handful of times, and at half the cost this was the perfect machine for Jane. Jane runs a pub in Wilpshire and is wanting to expand her menu, she came across the Hogmaster Pro when researching for an indoor BBQ kit. The Hogmaster Pro is fantastic for cooking BBQ food both indoor and outdoor and it was exactly the right size to fit in the pub.
Unsure at first about buying the machine, Jane needed to have a think but when we mentioned that we still provide a 12 month warranty on all of our used machines she quickly changed her mind and before we knew it she was walking out of our showroom with a Hogmaster Pro!
Jane had since attended a Spitting Pig training day to learn how to cook the perfect pig using the machine and also how to use all the additional kits such as the BBQ kit that she loved! Jane commented that the day really gave her the confidence in the machine and how to use it, she now felt like she could head back to the pub in Wilpshire and show all of her staff how to use the machine.
We had a catch up with Jane recently and she loves her machine, she had told us how much it has improved her business (information we cannot share unfortunately) but we were very impressed too! With the summer months on their way Jane is in store for a busy year and already discussing purchasing a second machine!