When Hog Roast Lymm caters, it's with style, no matter the occasion. We've spent years providing inexpensive albeit tasty food for weddings, birthdays, christenings, anniversaries, corporate functions and so much more, and no two days are the same. We've visited some gorgeous locations, had a lovely time with both small and large groups of people, provided both informal and formal menus and spent all four seasons of the year ensuring our customers and their guests are well-fed and happy with our top-class service.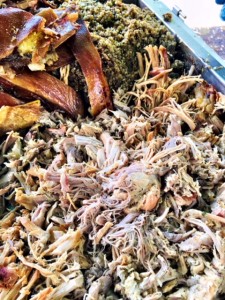 Recently, we were asked by two of our regular customers, June and Tim, to cook a centrepiece hog roast in their back garden, for an intimate party where family members and close friends were invited. The event was for a gender reveal, as they wanted to be with their loved ones to celebrate finding out the sex of their unborn child, and what better way to commemorate the special occasion than with our gorgeous pigs in buns.
Pigs in buns are what we named hog roast rolls, and that's fresh bread rolls or wraps filled with tender pieces of juicy meat and salty, crispy crackling, topped with our own homemade sage and onion stuffing and apple sauce, and then handed to you and your guests to add your own choice of condiments if preferred. They're our signature dish that everyone loves and while on this day we would be serving most of June and Tim's guests our scrumptious pigs in buns, we would also be cooking veggie skewers for two vegetarian guests. At Hog Roast Lymm, we always ensure to offer plenty of options for guests with dietary requirements and as long as we know in advance, it means all your guests will be well-fed with yummy, homemade food and no one will miss out.
On the day of the gender reveal, our Hog Roast Lymm chef and his team arrived hours before the guests, in order to set up the gazebo and serving tables and start roasting the hog, which takes hours. Nearer the time of service, the veggie skewers got a good grilling, and we put together some garden-fresh salads, and it was time to feed the hungry guests, who were excited to find out that the baby was a girl.