At Hog Roast Bakewell, we understand that when you hire us to cater for your event, you are placing in our hands a great amount of trust. You trust that we will arrive early enough to slow cook the meat to perfection. You trust that our chefs and catering assistants will be friendly, polite and professional. You trust that you will be able to enjoy your event, rather than worrying about hosting duties. Yes, there is a great amount of trust involved when it comes to hiring caterers for an event, but our great reputation as the country's best Hog Roast caterers, is built on years of customers placing their trust in our hands, and on our professional team delivering outstanding food and service, time and again.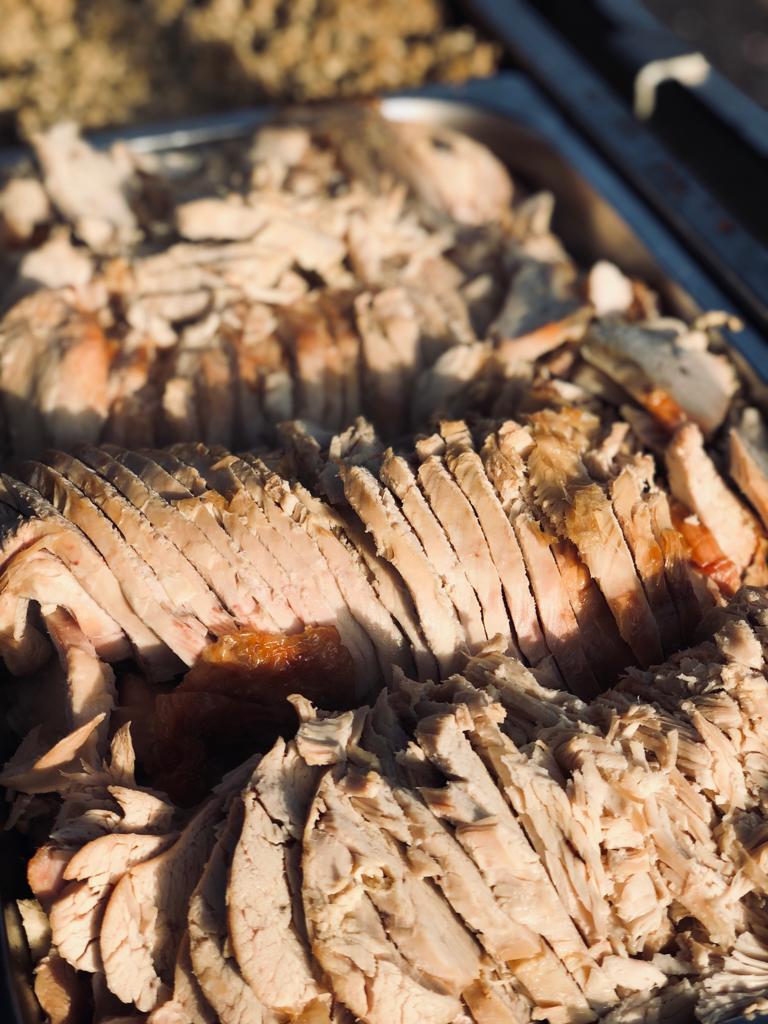 This week, the team at Hog Roast Bakewell were entrusted with a truly special honour, catering for a family's Sunday dinner. We were first contacted by Jonathan, who invites his two sisters and their families to dinner every month. He came to us because he wanted to enjoy his family's company without having to worry about the cooking, and because he wanted something extra tasty. We helped devise a menu that would produce a truly spectacular Sunday dinner.
We arrived mid-morning just as Jonathan and his family were finishing their breakfast, and set up our Hog Roast machine outside, under the protection of a Gazebo. On the menu today was the whole slow Roasted Turkey with fresh cranberries and sage and onion stuffing. The magnificent slow roasted bird was to be served with a seasonal vegetable medley and roasted new potatoes, along with our chef's special homemade onion gravy. Jonathan's guests arrived early in the afternoon, and the food was served for four o'clock, on high quality crockery with napkins, and our catering assistant had laid down a tablecloth. Once the mains were cleared, it was soon time for desserts – the wonderfully creamy Cheesecake.
After desserts had been enjoyed, and all of Jonathan's guests were full, there was nothing left to do for the team at Hog Roast Bakewell, but tidy away their mess discreetly and dispose of any waste off site.