As professional hog roast caterers, we need the very best equipment to be able to successfully run our business. Every day our Hog Roast Abersoch teams are catering for events up and down the country and so we require machinery that is durable, easy to manoeuvre and most importantly reliable- consistently producing excellent results every time. For that reason, we decided to build our very own Hog Roast Abersoch machines.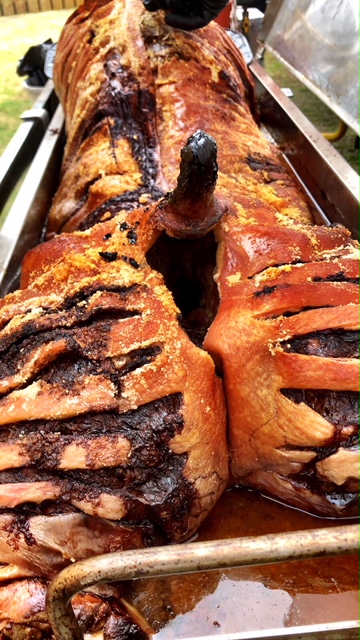 This way we can create machines to our exact specifications and easily modify current machines to fit our changing needs. For example we recently created the BBQ attachments which come in handy during the summer months- transforming our standard machines into full range BBQs. As we have now been in the hog roast machines business for over a decade, we are able to sell these products to members of the public too. We truly are the UKs leading hog roast machines experts so why go anywhere else for your machinery?
One of our recent clients, Rob, had been looking for a way to reinvent his own catering company and when he came across Hog Roast Abersoch and our machines, he simply knew he had to give it a go. One of the perks of choosing Hog Roast Abersoch is that we always encourage our machines customers to try before you buy by letting you hire our machines for any period of time with absolutely no pressure to buy afterwards.
Fortunately, Rob had thoroughly enjoyed the Platinum machine which he had hired from us and had decided that he would like to purchase one to keep and utilise in his own business.  We were thrilled to hear this and arranged a date for delivery for the Platinum and also gave Rob the name of our local suppliers so that he would have everything he needed going forward to make the most of his machines purchase.