We've just received yet more good news about our triumphant Titan machine from the latest happy new owners-the organisers of a local farmers market! The monthly market is always a major event in the local area that draws in a big crowd and given the numbers that had bene attending lately, the committee behind making it run smoothly every month decided they needed to invest in a reliable piece of cooking equipment that could feed a lot of people and showcase the great local produce being sold there. A hog roast machine was the obvious answer, but they didn't know which one would be best, how easy they were to use or how economical it would prove to be.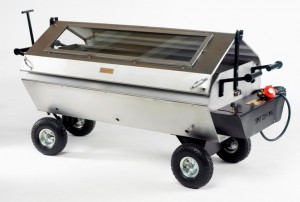 Our incredibly helpful and knowledgeable customer service team talked them through their options before using their expertise to identity that the Titan was  the perfect machine for the farmers market. With its capacity to perfectly cook enough pork (or any other joint of meat for that matter) to feed up to 300 people in one go, it certainly ticked the quantity and quality boxes. The Titan's robust wheels, which were great for transporting it over uneven terrain in any weather also made it a great piece of catering equipment that could be used in the muddiest of fields without its performance being hampered or anywhere being off limits.
We were enthusiastically  informed that the Titan was incredibly well-received during its farmers market debut! Not only did it make its maiden voyage from van to marquee through a lot of sludge and puddles after a heavy downpour the night before, completely unscathed, it also produced a seemingly endless supply of succulent pork with very little effort involved on the part of the nominated chef that day!
After seeing such great results from the outset, the farmers market brigade can't wait to use it again next month, so they can wow even more people with the quality of their locally -reared meat. They told us that the Titan has already become an indispensable addition to their set-up and now they are the proud owners of one of these formidable machines, they don't know how they ever coped without it!