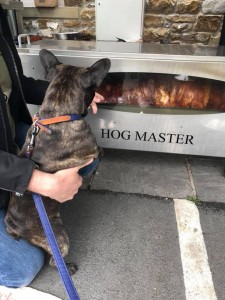 Hog Roast Pendle recently got involved with the Pendle Pub Walk, which is now in its tenth year. This annual sponsored event takes walkers around the gorgeous Pendle countryside, where you can stop off at various pubs for a rest, a drink or maybe some delicious food, like a hog roast or some barbecued food. The Pendle Pub Walk raises money for Pendleside Hospice, which is a registered charity that helps people with life-limiting illnesses, as well as their families and carers, and they do some fantastic work in the local area. Most of the funds raised for the hospice come from local fundraisers like the Pendle Pub Walk.
For this year's event, Hog Roast Pendle donated two of our brilliant Hogmaster hog roast machines to Barley Mow in Pendle to be used on the day, as this pub would be the last stop of the 15 pubs taking part this year. Barley Mow is a charming country pub that can be found at the foot of Pendle Hill, and once the walkers had made it there, they would be able to enjoy plenty of mouth-watering meat while giving their feet a rest and having a well-earned drink as well.
On the day, the pesky rain didn't stop those taking part and by the time they got to Barley Mow, after being on their feet since 10am, rambling across both countryside and roads for this year's 10-mile trek, the walkers could relax on the riverside terrace, shelter from the rain, and tuck in. As well as a tasty hog roast, there were sausage and bacon sandwiches and burgers, so plenty of variety. There was also a Gin Bar set up at Barley Mow, where they were serving amazing flavours such as raspberry, rhubarb and ginger, blood orange, elderflower and even nettle gin, and they served cask ales and lagers all day too.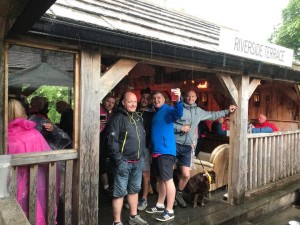 This year was another record-breaking year for the Pendle Pub Walk, with around 2,700 walkers braving the rain and raising lots of money for a well-deserved cause. It was a pleasure for us to be able to donate our machines for the day and our Hog Roast Pendle team look forward to joining in with this great event again in the near future.