We've had a super busy week here at The Spitting Pig. Now summer's hit, we're busier than ever, with lots of hog and spit roasts for weddings, corporate events, baby showers and much more. You may know us as a catering service for many kinds of events and you may even know that you can hire a hog roast machine from us for a DIY, but did you know that we actually designed those machines and manufacture them right here in the UK? You may be interested in buying your own machine for home use or for your catering company. Whether for professional or domestic use, you are more than welcome to have a tour of the factory by booking in advance, which is what Michelle and David did just yesterday.
Paul has been thinking about buying a hog roast machine for some time now, to add to his own catering business that covers local events including weddings and birthday parties. Branching out into hog roast and spit roast catering is not as scary as you might think and it's much easier than you may think, too. If you're thinking of buying a machine, but have never used one before, we would recommend that you hire one of ours first, to see just how simple cooking this way can be. We show you how to use it and once you're confident with the machine, it's likely you'll be hooked. Cooking this way can save you lots of money over the years, even as a domestic user. As our machines have been designed with portability and ease of use in mind, you can take yours just about anywhere if you buy one as we have a copyright-protected steering mechanism. So you can use one of our versatile machines to barbecue in the middle of a park, spit roast in the back garden or hog roast at a friend's party!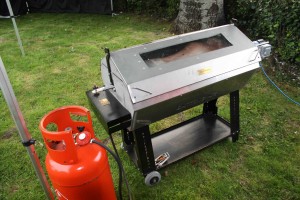 Paul's partner Michelle was very interested in the fact that one of our hog roast machines could be used at home as well as for Paul's business. Yesterday, the couple hired one of our bigger machines to see how they would get on with it, and were so impressed that they've kept it for a couple more days!