The latest happy customer who has purchased one of our unbeatable Platinum machines is a very happy man called Rob, who runs his own catering business. He had been on the lookout for a new piece of kit for a while, but he took his time as he wanted to make sure it was exactly right of all of his needs. He certainly hit the jackpot when, shortly after contacting us here at Hog Roast Tyler Hill, he was welcoming the multifunctional Platinum machine into his business!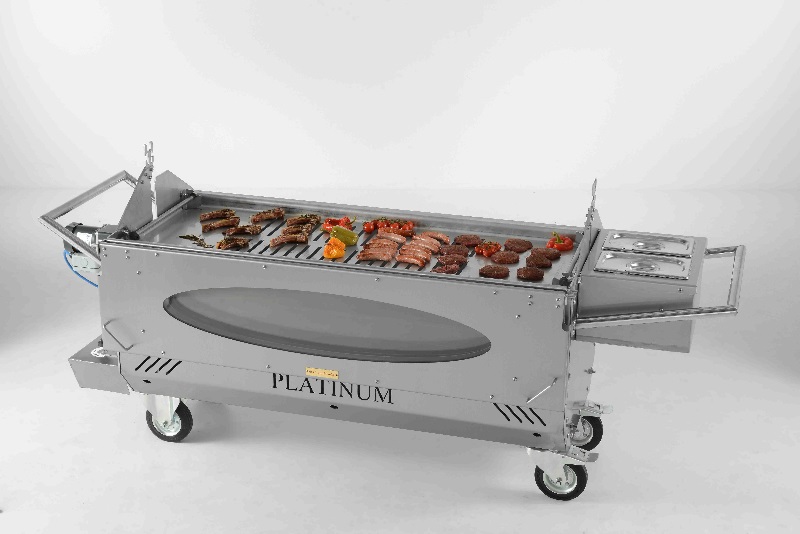 Rob had a long list of criteria for his new investment, and he was beginning to think he was being overly optimistic in thinking that he could get everything he needed from a single piece of cooking equipment, so he was absolutely over the moon when a member of the Hog Roast Tyler Hill team talked him through all of the Platinum's attributes! Not only does the mighty Platinum have the largest capacity of any hog roast machine available on the market, it is also a very versatile piece of equipment that can be easily transported and set up in any environment.
Rob was immediately impressed with its capacity to cook two whole pigs at once, not to mention its ability to cook a large volume of other meats, as well as potatoes and vegetable dishes simultaneously. As an added bonus, Rob found that the Platinum has style as well as substance and makes a great centrepiece for any occasion as it allows his diners to enjoy the spectacle of this traditional cooking technique being demonstrated right before their eyes! For Rob, being able to prepare a substantial volume of high quality, freshly made hot food with a minimal amount of staff on-site is an absolute dream come true for him. He also found that an added convenience is how easy it is to transport the Platinum anywhere he needs to – despite its vast capacity for food preparation, he has no problem getting it in and out of his van!
Here at Hog Roast Tyler Hill, we are delighted that Rob is so appreciative of all of our Platinum machine's virtues, and we hope it continues to enhance his business on a long-term basis!