Across our many franchises the one thing we've always had over the last 20 years at Hog Roast Whitchurch is the best in hog roasting technology. Our founder and leader Stephen Marsden early on in his catering career was not content with the standard of hog roasting machines available to him, and even less so with the higher prices to rent he was facing just for use of the machines. And so, he took it upon himself to start designing and manufacturing his own hog roast machines to do exactly what he knew they needed to do. His years of experience in the industry meant he knew exactly the challenges faced by caterers so could design for those solutions.
Now Hog Roast Whitchurch boasts a varying range of machines all ideal in their own way. These machines are the best in the business and will most assuredly always see you right, for personal use or industrial! With Hog Roast Whitchurch you can rent our many machines for yourself or if you're in the market to buy then we can have that arranged too. It's certainly better quality for your price too – with Hog Roast Whitchurch you're getting the right and fair price for an excellent product. You need only pick out the right machine to fit your needs.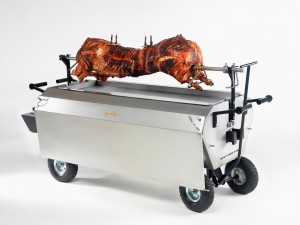 Our team are experts in this respect so we'll help keep you right. Hog Roast Whitchurch will walk you through the pros and ideal situations for each machine to help you make an informed purchase. Looking for robust yet non flashy? Then you've got our ol' reliable Titan machine – our best selling and most favoured machine for all that we do. Wanting more versatility? The Platinum machine might be the one for you.
Whatever your decision, Hog Roast Whitchurch can assure you that you're receiving a quality product. We're the best, most knowledgeable hog roast caterer and manufacturer on the market so you can trust our good hands. What's more, we can even offer you full training for your machine too! Now isn't that a perfect deal!
Hog Roast Whitchurch is hog roast by name and hog roast by expertise. So come shop with us today!