Spitting Pig has developed its hog roast machines to a level where they are market leaders in the UK and prides itself on the quality and value for money of the machines.  The Platinum machine that we build is the ultimate in hog roast machines and can cook two pigs, four legs of pork and 200 jacket potatoes all at the same time.  The Platinum can also be used as a traditional barbeque whilst you are still cooking your pig at the same time and you can also use the lower area to store extra food ready for service; it really is a marvel to behold!
We also supply the machines abroad to many countries around the world and Spitting Pig recently sold a Platinum machine to a bar in Hong Kong.  The TikiTiki Bowling Bar is a fantastic venue in the heart of Hong Kong that provides wonderful entertainment including karaoke, dancing, magic shows, mask painting and many other activities.
When a client approaches Spitting Pig enquiring about hog roast machines, we always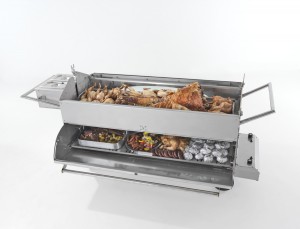 discuss their requirements in precise detail to ensure that the client's expectations are met.  In this case, TikiTiki Bowling Bar were a little unsure what type of machine that they needed but were definitely clear that it needed to provide high quality results and be ultra-reliable.  We chatted with them to find out how often the machine would be used (very often!) and for the number of guests that it would serve.  On this latter point, it became clear that this would vary but at peak times, it may be used for a prolonged time and in continual use for quite a few hours which meant that two hogs would likely be required.
TikiTiki Bowling Bar emphasised that their clients consistently expected high quality food with varied menus and, with the versatility that the Platinum machine offers, we knew that this was the machine for them.  After shipping the Platinum machine to them, they also knew that this was the right choice!