Grace, the proud new owner of her very own craft shop, had managed to achieve her dream of turning her hobby into a successful career! After being encouraged by friends who recognised her talent, to start selling her creations online and at local craft shows, Grace's craft career went for strength to strength until she found herself holding the keys to her very own shop! She had given careful consideration to her launch party, which was just as much about thanking her friends and loyal customers who purchased and promoted her goods on social media, as it was about drumming up interest in her new venture. Being a self-made woman, through and through, Grace decided she wanted to do the catering herself, but she was unsure what option to go for, as she didn't want to spend the entire party slaving over a hot stove and not be able to spend time with her friends and potential new customers. She also didn't like the idea of doing a bog standard cold buffet, as this didn't sit well with her creative spirit!
The solution presented itself in the form of our very own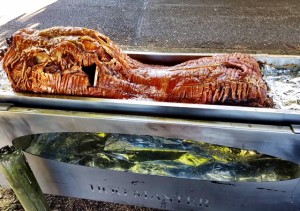 Hogmaster! After reading up about it on our website, Grace discovered they are available for hire and she promptly contacted a member of our helpful customer service team for more information. The more she heard, the more Grace knew the Hogmaster was exactly what she needed for the grand opening of her new craft shop!
When our delivery team arrived and reassured Grace how easy to use the Hogmaster is, she couldn't wait to get started! Grace told us afterwards, it was everything she was hoping for and more-excellent value for money, great quality food that got everyone talking, and the machine itself was the showstopper she was looking for, that still allowed her plenty of time to mingle with her guests and get customers interested in her new store! Grace was so glad she had chosen the Hogmaster, and she thanked us for providing an impressive, yet user-friendly catering solution for her craft shop launch party, that got everyone's creative juices flowing!