We've just heard from Dave and Anna, who recently made the wise choice of buying some pork from  Mount Grace Farm Pigs for their DIY hog roast wedding reception! They were so pleased with their purchase, that as soon as they go back from their honeymoon, they couldn't wait to drop us a line to let us know!
The couple didn't want to waste money they didn't have on a big wedding with all the trimmings, so instead opted for a low-key affair and call upon favours from friends and family to do most of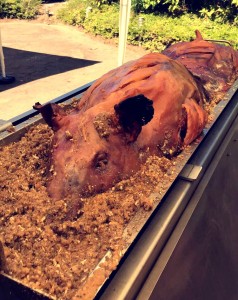 it for them. They decided on a hog roast for the wedding reception, but being novices in that department, they had no idea where to get the meat from. They didn't want to spend a fortune, but they didn't want to compromise on quality either (it was their wedding day after all!). With so many other things to plan as well, Dave and Anna were starting to get stressed about it-that was until Anna was doing a bit of research on the internet and came across the Mount Grace Farm Pigs website. She read all about the ethical conditions in which the pigs are reared, which as well as giving the animals a great life, also improves the quality of the meat. The detailed information about the pigs and how they are cared for, reassured Anna that the meat would be top-quality, and she got even more excited when she saw what great value for money the pork was too!
With the wedding day fast approaching, Anna was initially concerned their pork would not arrive on time if they bought it on line, but the very straightforward online buying process and next day delivery service soon put the worried bride's mind at ease! Dave and Anna's wedding day pork arrived the very next day as promised and they couldn't believe the speed and efficiency of the service. The quality of the pork didn't disappoint either and the flavour of the meat was everything they were hoping for! The newlyweds were so happy they had chosen Mount Grace Farm Pigs for their meat and they thanked us for taking the stress out of their big day!