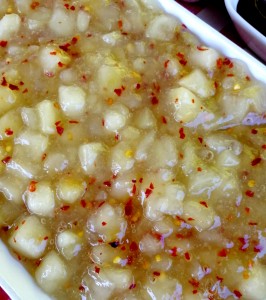 Hog Roast Guisborough can cater just about any kind of event that you can think of, whether you're planning a wedding reception or anniversary party, an engagement or birthday celebration, or something entirely different. These days, a hog or spit roast really is suitable for all kinds of occasions, and with our equipment running on gas, it means we can cater in just about any location too, as we don't need mains electricity to do so. Another thing that you may not know is that we offer our customers plenty of variety, with several menus to choose from, including additional and alternative options. You don't even have to have a hog or spit roast with us, as we can provide so much more, but you'll be missing out if you don't try one! The look of a hog or spit-roasted bird or animal gets the taste buds going, the amazing aromas start your mouth watering and then the taste simply satisfies.
Hog Roast Guisborough was recently asked to provide our Menu 3 for a retirement party at Marske Sports Club, as well as a dessert. This menu includes a slow-roasted hog, cooked for several hours until crispy and salty on the outside and soft and juicy inside, as well as our homemade apple sauce and sage and onion stuffing. With the addition of a selection of fresh, floury bread rolls and sauces, chef's choice of three freshly prepared salads and delicious warm new potatoes in a herb butter, there would be plenty of food to go around at this event.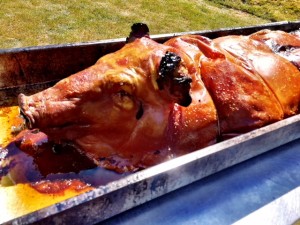 The party would be 60's themed, for the retirement of Philip, the President of Rotary Club Guisborough & Great Ayton. Our Hog Roast Guisborough team on this day would be Mandy and Gail, who arrived hours before service to set up our equipment and prepare the meat. When we prepare a pig for roasting, we score it all over, add water and plenty of salt, and then cook it slowly for hours and hours while we watch over it. Our excellent machines that we use do all the work while we take all the credit!
Hog Roast Guisborough had a great time serving the friendly guests, and some had to go back for seconds or more, as it was so tasty.