It may surprise you to know that we operate all over the UK, not just locally, catering any and every type of function you can think of. From birthdays to weddings, christenings to corporate events or even a one-off party to celebrate a divorce, for instance, our highly-professional team takes the stress off you, the customer, when it comes to the food, leaving you with more time to spend with your guests.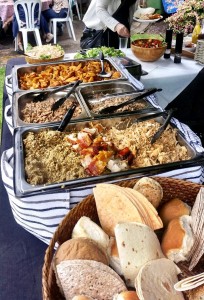 Having been kindly recommended to The Spitting Pig by a friend, Lindsay booked us to cater her partner Ian's birthday over the weekend. She couldn't think of a better way to celebrate his 50th than with a hot hog roast Earlston and some lovely roasted vegetables, so we told her about our winter warmer menu which includes just that. With your choice of seasonal vegetables and/or potatoes, we serve the hog roast buffet-style. The pig is slowly roasted at your venue for hours until it has a golden, crisp skin that gives us tons of wonderful crackling, and so that the meat is tender and juicy, and we then serve pieces of both on quality disposable plates with the veg.
Lindsay asked us to roast together sweet potatoes, peppers and carrots (Ian's favourites) and to provide a couple of baked potatoes and coleslaw for 2 of the guests who didn't fancy the choice of meat. We can always provide alternatives for your guests, so if you have any vegetarian, vegan or gluten-free people coming to your party, don't let that put you off having a hog roast. Our excellent chefs are handy at whipping up suitable options, so just let us know what you need.
Ian's party was held at his house on Friday evening, so we arrived in the afternoon to start cooking the hog roast Earlston for a few hours. Later on, we got on with roasting the mixed veg after drizzling with olive oil and baking the potatoes, and then finally the guests began to arrive as we prepared the coleslaw, stuffing and sauces. By this time, the smells of the resting hog were amazing and guest after guest agreed about that, as well as the incredible tastes of their winter warmer food.