When it comes to fine dining, alfresco dining, or even an informal casual buffet, Hog Roast Durness have all the answers that you need and best of all, the professional expertise that comes with it. For any style of event or reason to celebrate you can rely on us to provide you with an exceptional buffet that you had only imagined. Sleek table cloths, crisp chef's whites and above all else, high quality food at an affordable price.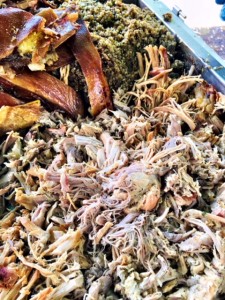 All of our menus are suited for any type of event and all of which can also be adapted to meet the formality of your event. Our versatile catering staff are experienced in all aspects to provide you with an informal buffet style service or alternatively a formal dinner served to the guests at the tables. Hog Roast Durness are open to all options for you so you need not look anywhere else.
Our traditional Hog Roast rolls are always a popular choice amongst the guests and when Alice was planning her birthday party she knew that a menu from Hog Roast Durness would be perfect! The array of side dishes, slow roasted pork, and delicious tempting desserts would impress absolutely everyone. Alice also had 5 vegetarians attending so we would be providing our vegetable and halloumi skewers alongside the pulled pork rolls, chips and freshly made selection of salads. Alice wanted the event to be very informal with a buffet style service where the guests could go and collect their food whenever they wanted.
Our catering team were on hand to serve the guests for the requested 2 hour window and then we would plate up anything that was remaining to leave as a buffet for later on in the evening once the guests had had a few more drinks and plenty more dancing! The 80 guests absolutely loved Alice's choice of food and more than normal even came up for seconds, luckily we still had a little bit left to leave for the remainder of the evening.
Alice was overwhelmed with the compliments from the guests about her organisation, entertainment and of course the fabulous food!