Here at The Spitting Pig, our team love what we do, whether that's catering a wedding reception, a fancy dress birthday party or a huge corporate event for hundreds of guests. But when it comes to catering a charity event, we're even more happy to do so and proud to do so, too. We recently attended a Georgie's Gift fun run fundraising event at Nuneaton's Pingles Sports Centre and cooked a truly scrumptious hog roast to feed the hordes of runners, fundraisers, supporters and other caterers.
Georgie's Gift is a charity that supports families, hospitals and the fight against meningitis, and was set up in loving memory of Georgie Hall, who sadly lost her life to meningitis and septicaemia. Raising awareness of something that can be so devastating is imperative and after setting up this charity, Georgie's parents, Matt and Paula Hall, have created some amazing fundraising efforts in order to do so, including trying to break the Guinness World Record for the largest fitness circuit. After two failed attempts, they will be trying again on September 9th in Nuneaton, so go and show your support! There's also been a beard-shaving event, running the 2017 Virgin London Marathon and a trek to Kilimanjaro.
In addition to raising awareness, Georgie's Gift has used funds raised in different ways to donate to individuals, other charities and even to local schools. For example, every infant, junior and secondary school in Nuneaton received a £1,000 gift towards any sports equipment that they need. This charity does so much locally in Nuneaton and further afield and you can help in various ways by visiting their website at http://georgiesgift.org and clicking on the fundraising page.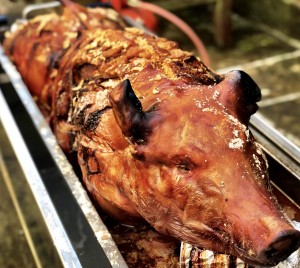 Spitting Pig had a really fantastic time at the fun run and met some lovely people, including the two sisters who run the Ice Maidens Cocktail Bar, Louisa & Julia. The sisters clearly loved our delicious hog roast, as did many of the attendees on the day, as we had so many compliments that we just couldn't keep count! As well as filling the air with the unmistakably delicious aromas of the hog that we roasted for hours and hours, we filled lots of tummies with gorgeous food and put smiles on many faces.