Now you might think we're perhaps getting a tad ahead of ourselves talking about Christmas already, (summer has only just passed, after all) but more and more we find that these events need booked earlier and earlier. After all, with the speed at which this year has whipped by at it will be no time at all until Christmas is creeping up on you. So, don't take the chance and get your Christmas events sorted now with Hog Roast Swindon.
Whether it's a staff event for your workplace or a family night to celebrate together Hog Roast Swindon can offer up the very best in Christmas-style dining. The staff Christmas night is a favourite around here, and we always love to help you all let loose after a year of hard work and enjoy a night of merriment, drinks, and great food.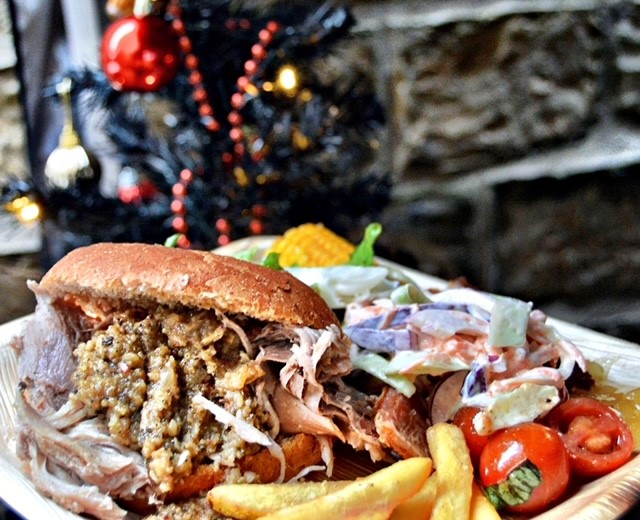 We are of course experts of the hog roast – it's in the name after all – but at Christmas we of course know that you're after one thing on the dinner table, and with our expertise in roast meats we're more than equipped to apply the same brilliance to a delicious, grandstanding roast turkey for you and yours. This whole roasted delight is deliciously moist for your eating pleasure, and of course comes with all the necessary accompaniments of freshly made cranberry sauce, homemade sage and onion stuffing, roast veg and taters', good ol' gravy, and, of course, everyone's favourite pigs in blankets.
If that's not enough we also have a dessert of mince pies, and for the adults in the party a specially made festive mulled wine (non-alcoholic also an option). With our great service your party takes care of itself – all you need to do is enjoy the company of your friends, family, and colleagues! We've got the rest covered.
Christmas is one of Hog Roast Swindon's favourite times of year, and with our festive menu proving extremely popular we always recommend getting in ahead of the crowd to guarantee your booking. So why even delay? Get planning now and make it a Hog Roast Swindon Christmas to fall in love with.