Our southern slow roast menu is packed full of flavour, which is enhanced by delicious sauces, marinades and high-quality ingredients. This menu is perfect for informal gatherings, such as birthdays and anniversaries- although it can also be enjoyed at weddings and corporate events! It is a customisable menu, with many dishes for you to choose from, to ensure we can provide a dish for every guest to enjoy.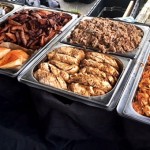 The main courses for this menu are slow-roasted to perfection on-site, for over 6 hours. This is the perfect way to lock in natural juices and flavourings and ensures your dishes are tender and delicious! For the main course, we ask that you choose 3 from the following options: Cajun spiced whole roasted chickens, BBQ pork butt, Texan 24-hour beef brisket, Louisiana sticky pork ribs and minted lamb. this gives your guests plenty of options and provides something for everyone to enjoy! We also provide a large collection of side dishes, with mac and cheese, corn cobettes and new potatoes being some of our most popular options. Your guests can then choose from some delicious sauces, including BBQ glaze and hot pepper sauce.
Your chosen dishes will be served buffet-style to your guests, on either china or bamboo crockery. Once your guests have enjoyed their meal, we will discretely dispose of any rubbish and wrap up any leftovers for you to enjoy later.
This menu is incredibly versatile and can be enjoyed by guests of any age, as there are so many options for you to choose from. It is definitely a crowd-pleaser and creates a great talking point for the rest of your event. Food is a great way to bring people together, and Hog Roast Burwardsley catering is no exception!
At Hog Roast Burwardsley, our priority is providing delicious food for a wide variety of events. We can cater to both private and corporate events, with over 7 menus for you to choose from. Whatever catering style you require- we have the perfect option for you! To book in today, simply let us know your party size, location and date.