Signing the lease on a new home is an exciting achievement that is best celebrated with family and friends in the way of a traditional housewarming party, don't you agree? Well, it turns out that Alex thought so too, which is why after successfully bagging the secluded farm cottage, known simply as Rowan Barn, that was once a highly trafficked B&B situated along the historic Jurassic Coast, he reached out to our team at Hog Roast Measham almost instantly.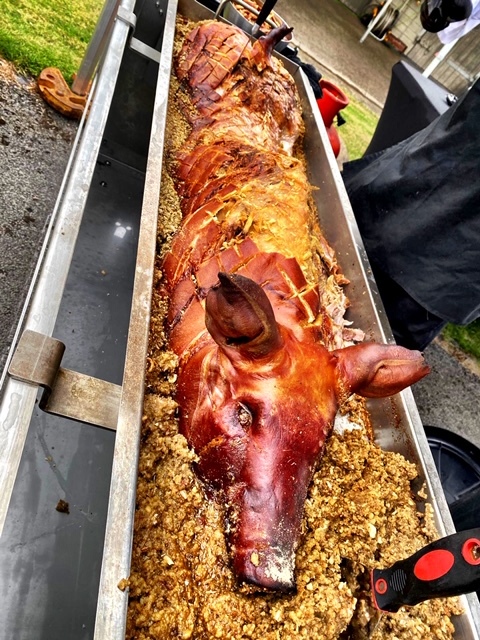 For Hog Roast Measham, there's no distance we won't travel to give our clients the day they deserve, and so, after hearing all about Alex's plans for the highly-anticipated housewarming do, our catering manager Lee was able to recommend the client's dream menu without a moment's hesitation. With plenty of outdoor space to make use of, our private party menu 3 seemed like the perfect choice on this occasion and Alex couldn' have agreed more! This laid-back approach to alfresco dining has proven popular this year especially, and striving to keep things simple, Alex had asked us to serve our signature slow roasted pig with applesauce, stuffing and crispy crackling, along with juicy gourmet sausages and grilled veggie skewers with optional chunks of halloumi cheese, tzatziki dip and flatbreads. For sides, warm new potatoes in herb butter, and a trio of colourful salads were on the menu.
With 35 mouths to feed, and a two-hour serving window to abide by, time was of the essence for Hog Roast Measham catering duo Lee and Brad. The pair filled the catering van with everything they would need and headed off to Alex's home at the crack of dawn that morning. But even with time constraints, they still managed to whip up the whole feast ahead of schedule, which even included presenting one of the salads in a floral arrangement!
Alex was overwhelmed by the attention to detail the Hog Roast Measham team had, and after the guests had finished their tour of the client's new abode, they soon flocked to the buffet table where they were greeted with a range of mouthwatering flavours.