You've probably noticed that the UK has been basking in some glorious sunshine recently. But as well as being the perfect weather for getting a healthy summer glow, it has also provided the ideal conditions for our clients to throw some amazing outdoor parties!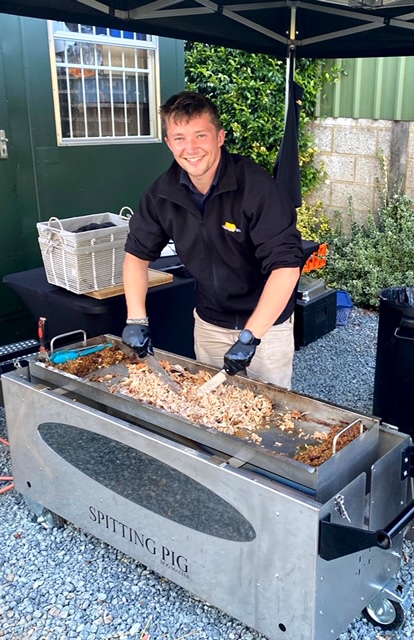 Family gatherings, friendship circles reunited, birthday parties and even backyard weddings. Yes, these past few weeks have seen the Hog Roast Marlow team rushed off their feet with all sorts of different events – and we wouldn't want it any other way! One of our more recent bookings took our team to a private home in the local area where catering duo, Lee and Reece had a wonderful time taking care of Alex's 50th birthday celebration.
The event, which saw 60 people come together to mark the special occasion, had been booked by Heidi who had chosen our classic hog roast menu for the day. Featuring a medium-sized hog with all the trimmings, gluten-free rolls and grilled veggie skewers with optional haloumi, tzatziki dip and flatbreads, this menu was perfect for the rustic celebration that Heidi had in her mind.
In the early afternoon, the Hog Roast Marlow catering crew arrived at the client's home to get started on the feast ahead of the 6:30 pm serving time, and after finding a discreet spot, they erected the catering gazebo and set straight to work. With the pig embedded in a deep layer of savoury stuffing, the aromas from the buffet began to fill the air, signalling that the meal was almost complete.
Just before the guests arrived, Lee and Reece lined up the condiments and dips alongside the soft and floury rolls and began carving up the pig to reveal a centre of juicy meat. Heidi and Alex were blown away by the result, and the arriving guests too were quick to show their appreciation for the succulent spread by filling their plates with large helpings of applesauce smothered pulled pork and crispy crackling before settling down on the haybale seating to enjoy the irresistible flavour combination.
Alex loved every moment of his birthday celebration, and as the evening came to a close, Hog Roast Marlow began to pack everything away, leaving the leftovers presented on a platter for the guests to pick at.