Training You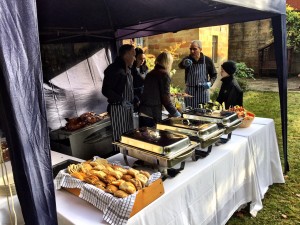 Here at Spitting Pig we realise that selling you a machine is only half of the battle. The other half is making sure that you understand how the machine works, how to cook with the machine but most importantly that you can get work for the machine to do. How you achieve this can vary greatly depending on what type of a hog roasting or general catering business you intend to run or possibly just a hog roast hire business? What we will do is make sure that we understand what type of business you intend to run then we can best advise you on which machine is the best one to satisfy all your needs.
Once this has been established we can then try to judge how much assistance you will require to get this business up and running. We really do see it as a partnership between Spitting Pig and yourselves. We can help with the whole process from deciding what type of business you will be running, how big this business is going to be, is it going to employ people, will you require premises, then how will you attract your customers we know lots of very economical or free ways to attract customers and get you up and running. This training can be achieved in many ways one of the most popular is to attend a full days training course at our training facility. Here we teach you all the ins and outs of the hog roast catering business, we will cook a pig with you and prepare salads and potatoes to accompany the hog roast and then stage an event for you to serve the food at.
Why not join our team? Enquire about a Spitting Pig Franchise today, share in our success and get all the benefits of our 25 years experience in the hog roast industry.
Finance
At the Spitting Pig we understand that in the current climate now, not everyone has the same funds available anymore where they can spend a significant amount of money at once without any hesitation. Many people are becoming much more conscious about purchasing goods and products. Especially when it comes to business, the majority of people are weighing up if large purchases are essential before reluctantly buying the product outright.
Often you know that you need to upgrade your hog roast machine, or you may just need an additional machine, yet do not want to pay out all at once. The Spitting Pig do offer some fantastic finance agreements to suit all.
The purchase of a hog roast, spit roast or combination roaster machine signifies just the beginning of a long and prosperous relationship between you and The Spitting Pig Company should you wish it to be the case. As we have stated at various points on this website and in various ways, the catering industry is one of the most competitive on this Earth, and new starters need to start in the right direction if they want to become profitable quickly. Often, loans need to be paid back, and coupled with today's fragile economic climate, the need for firms to be financially acceptable as quickly as possible has never been of more paramount importance to the fledgling business. Of course, if you have tons of money to waste, then trial and error might just get you there..