Here at The Spitting Pig we are proud to say that all of our equipment is manufactured at our factory based in Lancashire!
Built and designed by chef's for chef's.
Alongside all of our own products, we do also stock a variety of other machines from companies across the country, both new and used. Each machine has it's different trademark features and we want you to be assured that you have made the right choice! What's better than coming to see all of the UK's best Hog Roast Machines all under one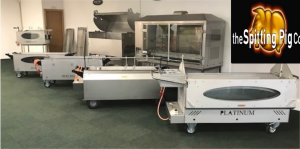 roof at our showroom based in Lancashire! We will guide you through the purchasing process, answering all of your questions and recommending the best machine for your needs.
You will find the right machine for you at the Spitting Pig.
Keeping your equipment in excellent condition is key to both a successful busin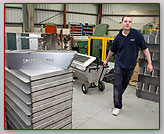 ess and maintaining the long life that your hog roaster has. Bring your hog roaster back to it's manufacturer to be fully serviced and repaired. Let the experts who built your machine, take care of your machine! On site we also have our parts shop and we are always fully stocked. Therefore any repairs that are required can be done on the day, any spare parts and accessories can be taken away with you on the same day.
We do provide a 12 months guarantee Gas Certificate when buying a hog roaster, it couldn't be easier to keep this up to date at our Service Centre. Have your service completed while you wait.
Give us a call to discuss booking your service!