One phone call to Hog Roast Litlington and you can not only check out all of our new and used equipment at our indoor showroom in Lancashire but you can also have a tour of our factory, see one of our trust machines being built by hand and chat to our experts about your particular requirements. We've made our own top-notch stainless beauties for many years and we sell them in person and online all around the world. They're the same ones we use to cater countless parties and events for our customers and you can cook just like us with one of your very own.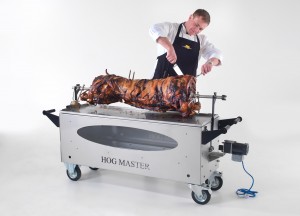 We have several different models under our belt, including the Hogmaster, Hogmaster Pro, Hogmaster Glass, Titan and Platinum, and depending on whether you'll be using yours to cook for small gatherings or huge functions, we've got exactly what you need. All of our hog roasters can cook so much more than hog roasts too, as with our special attachments, you can also spit-roast and barbecue food, and you can use the inside to cook like you would in a conventional oven, which is especially useful if you need to cook an entire meal all in one go. You could be watching over your meat as it sizzles away while your customer's choice of seasonal vegetables and potatoes cook to perfection inside simultaneously.
Hog Roast Litlington offers financing options so money need not be a barrier to owning your own machine and if you see the need to expand in the future, you can even trade up. If you'd prefer a second hand machine, due to the lower cost, there's no need to worry as rest assured it'll come with a 12-month warranty and a 12-month gas check certificate and we always service used machines before putting them on sale.
Whether you're new to the catering business or a seasoned professional, Hog Roast Litlington can help you to cook mouth watering food using our stainless steel wonders, so call us today for a chat or book an appointment to visit us in Lancashire and we can point you in the right direction.