Let's face it, wedding planning is stressful enough at the best of times without having to deal with the added pressure of organising every last painstaking detail of the catering service, am I right? Well, Hog Roast Immingham is here to take all that stress off your hands! In fact, it's always been a huge honour for us when engaged couples call upon our services to help them celebrate the biggest day of their lives. So when Sally-Ann and her husband-to-be Pepe first contacted us about plans for their wedding, we knew that we could offer them a bespoke service that would suit their every need.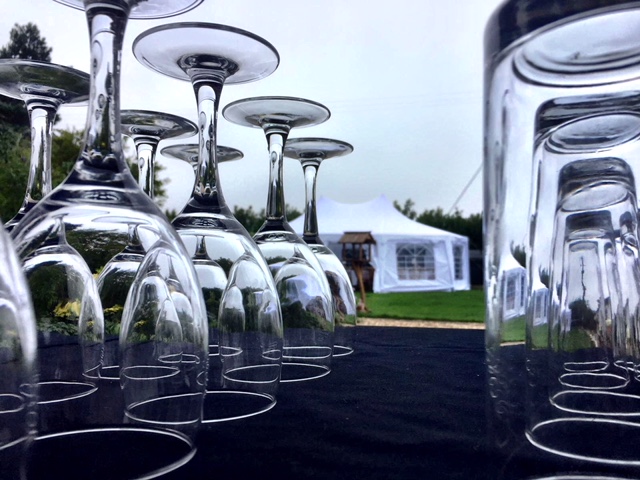 Having been in the catering business for over a decade, we're proud to say that Hog Roast Immingham clients put their utmost trust in us to give them what they want. For loved-up couple, Sally-Ann and Pepe who briefed us months before their impending nuptials, this meant a classy dinner menu with enough food to feed 110 people, real crockery and a member of bar staff to serve drinks to the guests at the reception.
With years of experience under his apron, catering manager Rob took charge of organising everything for the pair, and when the big day finally arrived, they weren't disappointed. Moments after exchanging vows, Sally-Ann and Pepe joined hands and entered their reception marquee to find the Hog Roast Immingham team hard at work.
Crisp white tablecloths adorned with lavender petals and real flower heads made for a breath-taking scene, to say the least, but after a long and emotional morning, it was the food people were most eager to see! Laid out on the buffet table alongside a full line up of condiments and dips, guests were able to help themselves to handmade gourmet sausages, wild mushroom bouchees, mixed salads and roasted potatoes in the stock of a pig. Our tomato and mozzarella salad seemed to be particularly popular among guests who couldn't help but return to the bowl for second helpings.
For the Hog Roast Immingham team, being able to offer custom options is a key aspect of our service and it's what makes events like Sally-Ann and Pepe's wedding all that more special.