We've just heard back from the latest new owners of one of our durable, versatile and user-friendly Titan hog roast machines! Sue and Paul run a corporate catering company and had been on the look out for a new piece of cooking equipment that would allow them to expand their repertoire and make them stand out from the competition. After contacting us here at Hog Roast Evesham, they decided our popular Titan machine more than fitted the bill!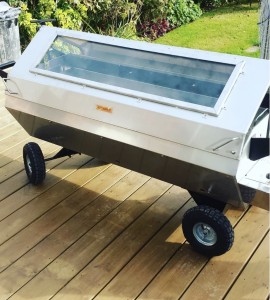 They decided that the Titan was the machine for them because it is robust, yet incredibly easy to transport and has the capacity to cook a vast amount of fresh food without being too labour-intensive. When their machine was delivered by Hog Roast Evesham's helpful team, Sue and Paul told us they couldn't wait to start experimenting with its various functions, especially after reviewing the informative CV that offers advice and tips on how to get the most out of the machine. From the outset they experienced a great deal of success, whether they were cooking an 80kg pig for a big company event or spit roasting a large amount of whole chickens in one go for corporate clients!
As well as scoring top marks for functionality, they also feel that the Titan looks the part at the corporate events they cater for. Thanks to its sleek stainless steel finish and compact construction, it never looks out of place in any setting and always attracts a lot of interest from their clients!
Sue and Paul are definitely very glad they decided to invest in one of our Titan machines and they feel like it has added an extra dimension to the food they offer, and makes it very easy for them to prepare a large amount of high, quality fresh food in any location. After receiving great feedback at all of the events where they have used the machine so far, the Titan has now become an integral part of their catering company and provides them with the unique selling point they had been looking for. The Hog Roast Evesham team are thrilled with the outcome and we're glad the Titan has made such a difference to Sue and Paul's business!