We've just had some great feedback from Helen, the manager of a local farm shop, who now has one of Hog Roast Frome's impressive Titan machines taking pride of place in her store! Like many other businesses, Helen's shop has had to adapt over the past few months, and they took the decision to close the café area of their business completely for the time being. They didn't want their loyal customers to miss out on some of the lovely freshly made homegrown produce and meats that they had come to know and love though, so they have continued to keep the shop open and alongside offering a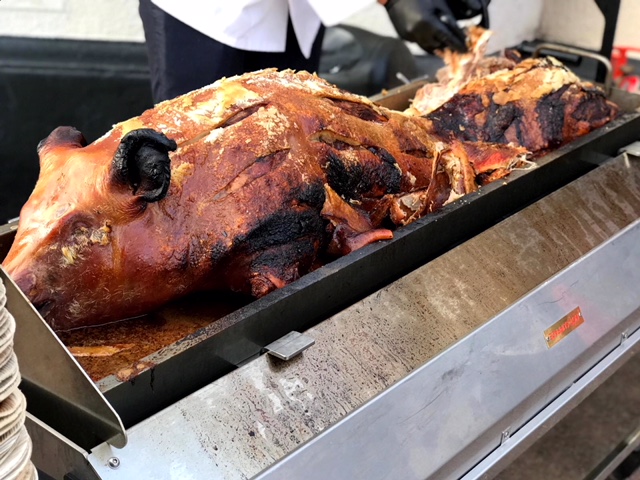 takeaway service. As their pork has always been such a popular selling point for them, they decided that there would be no better way to keep their customers happy whilst the café was closed than to offer them some hot and hearty slow roasted pork to take away, that hasn't only been reared close by, but also prepared on the premises! Helen decided that investing in a hog roast machine was the way to achieve this and having been recommended to her by another local business owner, Helen contacted us here at Hog Roast Frome for help!
After taking Helen's requirements on board, we knew our Titan model was the ideal machine for her, and after hearing about all of its attributes, Helen agreed! The Titan is our most popular machine for commercial use, thanks to it's ability to produce melt-in-the-mouth meat in high volumes with very little preparation or maintenance required by the chef, and for Helen, it more than lived up to her expectations! She told us she loves how reliable and compact it is, not to mention the delicious results it achieves without the cooking process being remotely labour intensive. Helen went on to tell us that the Titan has helped to keep her customers happy and her business healthy over the past few months, and she has no doubt that having her own hog roast machine will reap long-term benefits too! It's always great for us here at Hog Roast Frome to hear back from our clients, especially when they have so many positive things to say about buying one of our cutting-edge hog roast machines!