Since being established more than 30 years ago, The Spitting Pig has become hugely popular for providing top-class catering for events and parties all over the country. Nevertheless, we're also very well-known for selling and hiring out our own range of hog roast machines. If you fancy a DIY hog or spit roast, we offer equipment hire at affordable rates to include drop-off and pick-up and we also show you how to prepare and cook the meat, which is easier than you might think.
New customers David and Nikki hired one of our best-selling Titan hog roasting machines recently. They are landlords of a local pub and have been thinking of expanding to offering hog and spit roast catering there, so they wanted to try before committing to buying a machine. I delivered the Titan to the couple and showed them just how simple it is to cook a hog using it, as well as how to use the spit roast and barbecue attachments. For their first hog roast, they asked us to provide a locally-sourced pig from our trusted suppliers, so after putting it in the Titan, I demonstrated how to easily prepare it for cooking, by scoring it and adding water and salt. I gave David and Nikki detailed instructions that they could refer back to, and happy that they were comfortable with using the machine, I left them to it.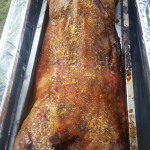 When we next heard from David, he told us that the initial hog roast had been such a great success with friends and family that they went on to source a hog themselves for their next roast. One of the most important things you need to remember when cooking a hog roast is to keep an eye on it. Unfortunately for this couple, it had been a windy day and the gas flame had gone out, which they didn't notice for some time, so even though their second hog roast was tasty, it took a lot longer than expected.
The couple reported that they also used the hired Titan to cook a barbecue at the pub, as well as a chicken spit roast for a home dinner. They've become so attached to the machine that they ended up hiring it for longer, so we've no doubt they will be purchasing one for their pub soon.