Regardless of whether you're thinking of hiring a hog roast machine to either cook at home for friends or family, for your own customers or for a particular event, you want to be comfortable with using it and confident with its capabilities. With a Hog Roast East Linton rental, you get this and much more. One of our qualified and experienced experts will drop off a machine that's most suited to your needs (as we have several in our range) to the location of your choice and will then walk you through the ins and outs of using it, even though it's relatively simple to cook with ours – a matter of setting the temperature, turning it and then the meat slowly sizzles away for hours. Both delivery and collection afterwards are included in the price and the only optional extra you pay is if you want us to source the meat you'll be using from one of our trusted suppliers.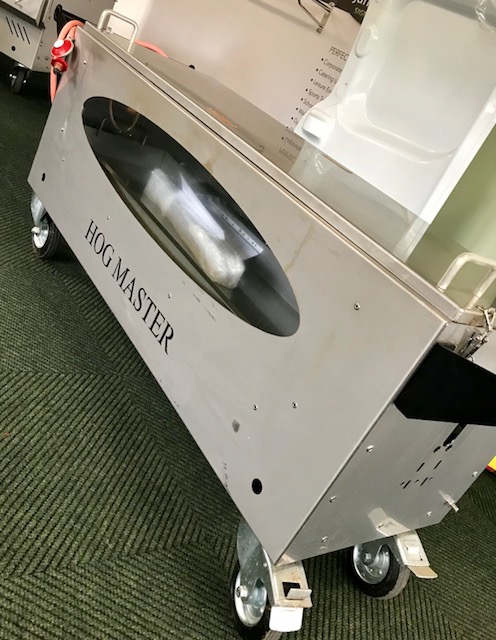 All of our own Hog Roast East Linton hog roasters have been designed to be super easy to use and versatile, so you can use our attachments to spit-roast animals or birds or barbecue meat, fish or veggies. The inside of one of our machines works like a conventional oven, so you could be roasting your meat above while potatoes and vegetables cook away perfectly inside too if needed. They're also easily manoeuvred, lightweight, durable and hard-working – the machine does all the work and you can take all the credit!
Hog Roast East Linton recently hired out one of our smaller machines to Amina, who wanted to try out this way of cooking for a private party at home with friends and family. On Saturday, one of our friendly chefs went along to her home armed with a hog roasting machine and a small pig and showed her what to do and gave her tips on preparing the meat beforehand. Once she was happy with how to use it and what to do with the pig, we left her to it and we're happy to report that when collecting the machine the next day, Amina told us just how successful her first-ever hog roast was.