The might of a ship isn't solely determined by its size; sometimes, it's the heart, the technology, and the mission it carries that truly matter. The HMS Hurworth, despite its modest dimensions, plays a pivotal role in mine countermeasures around the globe, safeguarding our oceans with innovative technology.
Recently, we had the unique privilege of getting up close and personal with this remarkable vessel when Hog Roast Henstridge received an exclusive invitation from Jonathan to provide a delicious lunch at sea for the ship's 100 dedicated crew members.
In order to be able to cook aboard the ship, we had to embark on an adventure of our own. Our trusty Hogmaster machine, the engine of our craft, was loaded onto the HMS Hurworth using a crane. The sight of it rising above the ship's deck was akin to watching pigs fly, a moment that beautifully symbolised the extraordinary nature of this event.
Upon arrival, our team, led by our experienced catering manager, Alistair, wasted no time and swiftly set to work, turning the ship's deck into a culinary haven. The challenge of preparing a delectable meal at sea was met with enthusiasm and a determination to deliver a memorable dining experience.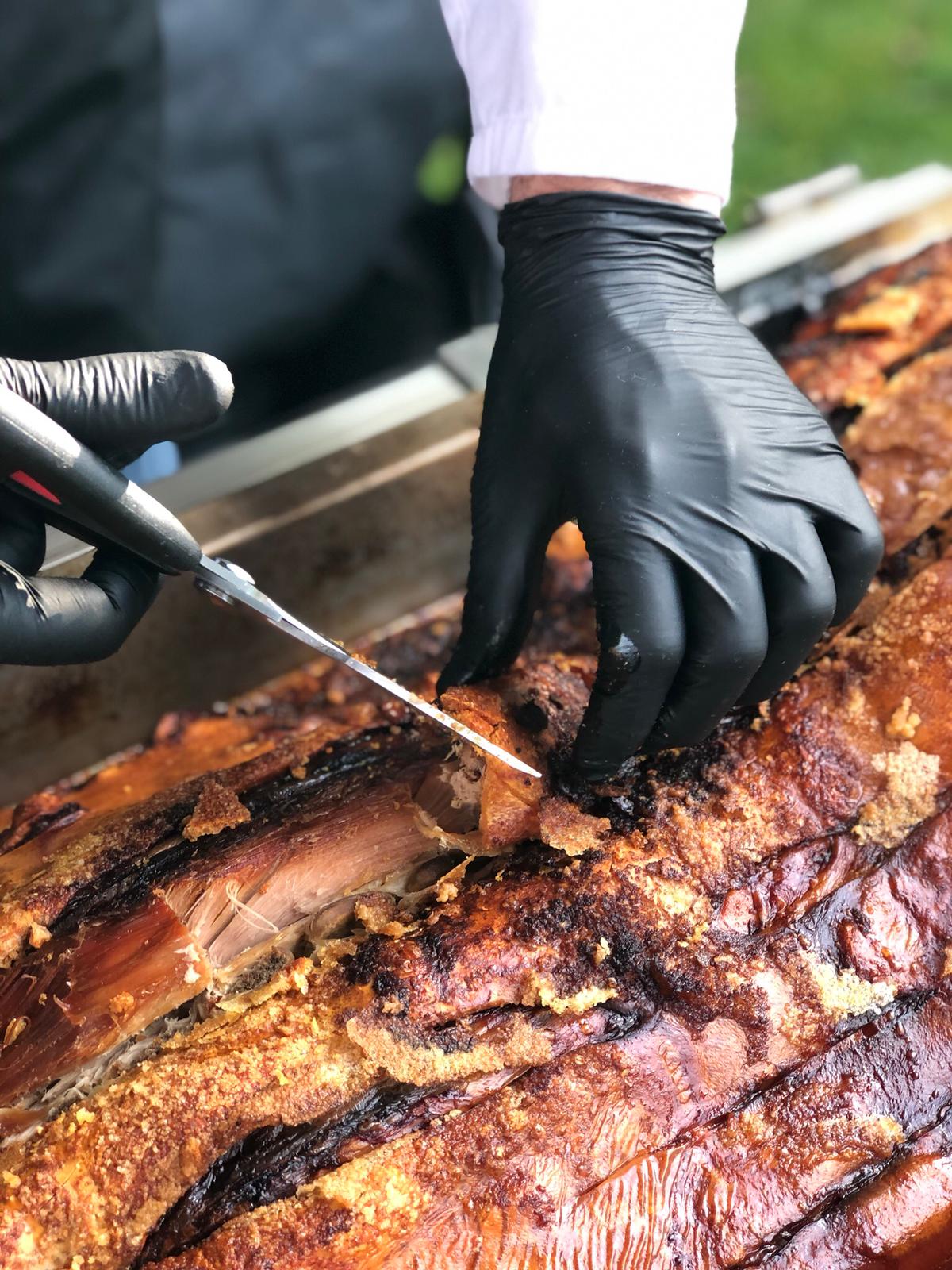 Our Classic Hog Roast Menu was the star of the show, providing the sailors with an authentic hog roast experience that left a lasting impression. The crew watched in awe as we masterfully cooked and carved a full-size pig to perfection. The succulent meat was served on gluten-free rolls, accompanied by sage and onion stuffing, crispy crackling, and a dollop of luscious applesauce, all designed to be enjoyed with the convenience of napkins or disposable plates.
In our commitment to inclusivity, we ensured that our menu catered to all dietary preferences. Hog Roast Henstridge prepared grilled vegetable skewers and, for those following a vegetarian or vegan diet, the option of adding tantalising halloumi.
The event was a resounding success, and the sailors had an absolute blast. Laughter, camaraderie, and the delightful aroma of our hog roast filled the sea air, making this unique lunch a memorable chapter in the lives of the crew.
For Hog Roast Henstridge, the opportunity to cater aboard the HMS Hurworth is one we won't soon forget. It's a testament to our commitment to taking our craft to new horizons and ensuring that, regardless of the setting, everyone can savour the magic of a hog roast experience.