We have a whole range of hog roast machines that we hire out to customers so that they can cook in this wonderful way for themselves. We actually designed our machines and we manufacture them from scratch in our own factory and rent them out to people for many different reasons. Some customers have rented machines from us for a hog roast birthday, engagement or anniversary party. Some hire machines just to cook a family barbecue in the back garden or a spit roast in the local park. We also hire out machines to local and national businesses who want to get stuck in themselves and do their own cooking for a work function. Just recently, we even dropped off one of our machines to a couple who were catering their own wedding reception!
When Billy and Cara called us asking about our machine hire business, they mentioned that they have used this kind of equipment in the past, and were comfortable enough with hog roasts to want to do their own wedding food. Many customers want us to take the reins here, to take the stress off them for their big day, but this couple had decided they wanted to cook the food themselves.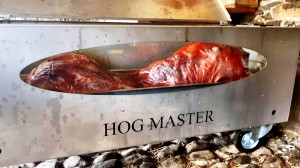 On the day of the wedding, before the ceremony itself, I delivered one of our hog roast machines to the hotel venue and met up with Billy to go over the basics. Even though he has ample experience, he hadn't used one of our own machines but it didn't take long to get him up to speed. We also supplied the hog for this rental, so once the pig and machine were in Billy's hands, I wished him luck and left him to it.
When I collected the machine from the venue that evening (as the couple were leaving for their honeymoon late that night), Cara said that their wedding hog roast had been a fantastic success. Thanks to our machine's ease of use, they had enjoyed preparing and cooking the pig themselves, as well as serving their guests. While many bride and grooms wouldn't consider spending a chunk of their wedding day cooking and serving food, it was clearly something Billy and Cara had loved doing and would remember for many years to come.