Last week Hog Roast Penstraze had the pleasure of getting out in the country air and catering for a family gathering in a rural retreat. The 30 relatives had rented a cluster of cottages at a converted stable, so they could all be together whilst still having their own personal space. For the last of night of the holiday, they decided to throw a party for a final evening of family fun before they all went their separate ways again. After reading some reviews, they learnt that Hog Roast Penstraze can supply a family-friendly buffet to please all ages and cook in any location. They wanted some tasty, hassle-free grub that was high in quality and value for money, something that we are more than capable of providing!
We had no trouble at all accessing the property via the bumpy country lane, as we don't need a lorry full of equipment or a massive team of people to be able to create a delicious meal. A skilled chef, an industrious assistant and one of our awesome hog roast machines are all that is required to feed 30 people! Also, as we always remove all our rubbish from the site afterwards and are so tidy that you wouldn't even know that we'd been there, the cottage owners were perfectly happy for us cook at their venue. We suspect they were secretly hoping to have first dibs on the leftovers!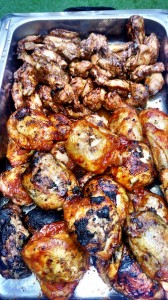 Our full-flavoured BBQ feast was the menu of choice for the evening, with slow-roasted pulled pork, Cajun style whole roasted chickens and Louisiana pork ribs, all infused with our own special marinade for a falling off the bone texture and a truly memorable taste sensation! For the adults, there was the options to crank up the heat with our fiery Cajun hot pepper sauce, whilst the kids loved getting stuck into the sticky BBQ ribs and corn cobettes, without getting told off by their parents for being messy eaters!
From the kids to the grandparents, everyone loved the food and they all agreed that hiring Hog Roast Penstraze to do the catering for their final feast was the best possible way to end their family holiday!