Today Spitting Pig are busy hog roasting in Harpenden for Jarvis Contracting Limited.
We can provide spit roast catering for any event, big or small and have found ourselves at many different types of location from garden parties to working on a type 23 frigate in the English Channel. It is all part of the excitement of our job….. You never really know what sort of environment you will be cooking the hog roast at, or where you will be hog roast catering from one week to another and we end up in some great locations and meet some exciting people along the way as well. Today is a little different to the normal set up as we are providing hog roast catering in Harpenden on a building site.
Jarvis contracting are constructing twenty six luxurious flats on the site of the former Gleneagles Manor Hotel. Work is well under way on the project, and also well ahead of schedule, and today Jarvis contracting are having a topping out ceremony and have asked Spitting Pig  to come along and provide a hog roast and salads to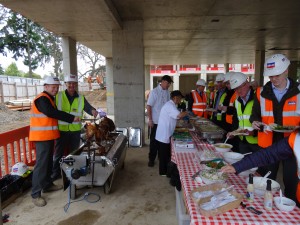 celebrate the occasion.
Topping out ceremonies are very popular in the construction industry….. It is a tradition that dates back to medieval times and is believed to bestow good luck for the future for the building and ward off evil spirits!! It is now more commonly recognised as a way of thanking the work force and all those involved in the construction and of the building reaching its highest point. Quite often a principle guest is invited along to mark the occasion and today the Mayor of Harpenden was here to celebrate along with the workforce.
Traditionally a yew branch is placed at the highest point or sometimes the principle guest will apply the final pour of concrete or lay the last beam in place.
So if you are ever gazing up at a newly constructed building before the furniture or internal works are started and think to your self what on earth is a tree doing up there….. Well now you know. It is for good luck and a gesture of thanks for those who helped raise the project off the ground
What better way is there to celebrate this achievement than to have a hog roast in Harpenden?
As you may know it takes a while to cook a hog. We set up nice and early in the morning and as the contractors arrived for work they were greeted by the aroma of sweet roasting pork which wafted through the building. The lads all followed their noses to where we had set up and took photos to send to their friends and families to show them what was in store for them later in the day. It was a bit of a distraction to the lads who were working hard on site as the wafts of sweet roasting pork filled the construction site.
As cranes, diggers and lorries trundled back and forth we set about making some freshly made salads to accompany the hog roast and prepared the serving tables for lunch.
After the ceremony on the top floor, everyone came down to the bottom floor for a speech
We then served the hog in soft flour baps along with a delicious fresh green salad, coleslaw and potato salad and this was then finished wit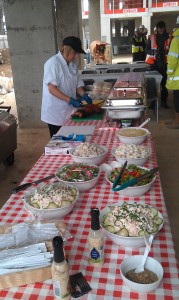 h some cake and soft drinks.
Hopefully as the economy grows many more building projects will progress and traditionally many more topping out ceremonies will follow. What better way to thank your work force is there than treating them to a delicious, mouth watering hog roast with golden crunchy crackling for the hard work in raising your future project of the ground?
In about twelve months the twenty six flats should be completed and Jarvis construction will be proud of another prestigious development in the heart of Harpenden.