Today Spitting Pig Hertfordshire are hog roast catering at Ashridge House near Dagnall. It's their staff party and were expecting about 275 guests for a hog roast tonight. Ashridge House was built around 700 years ago as an Augustinian Monastery and today is one of the leading business schools in the country with many blue chip companies training staff to the highest of standards. The House draws in visitors for tours of the house and gardens which cover about 190 acres which are set in the picturesque Chiltern Hills. Deer roam through the woods and fields and there are many walks through the beautiful countryside.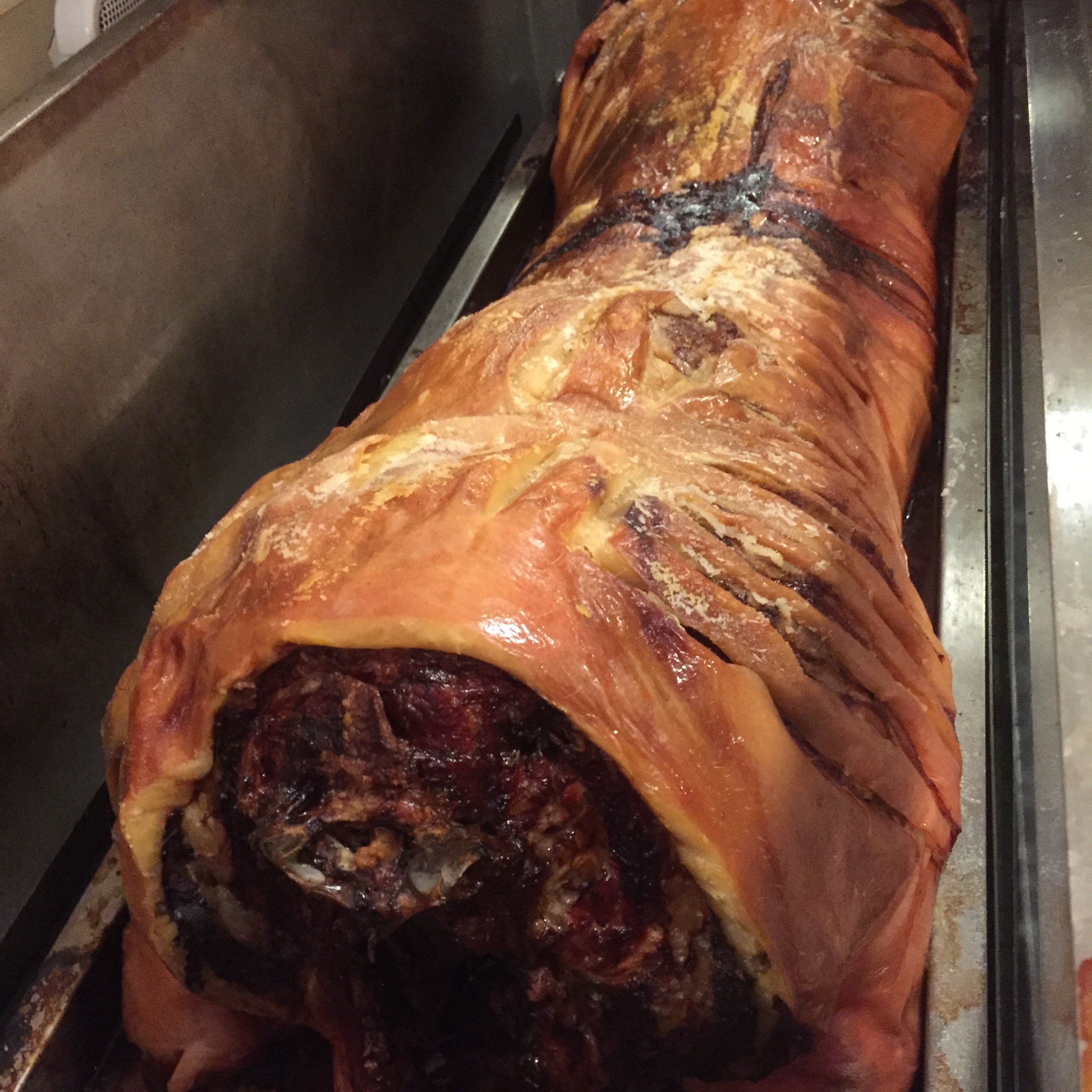 We have two enormous pigs which will take about seven hours to cook so we are setting up nice and early on a cold and windy day so we are ready for a seven o'clock serve. Along with the hog roast in Dagnall, we will have a few side dishes including a nice green salad, homemade coleslaw with a bit of a twist (Read on and you will find out!), along with delicious hot roasted new potatoes which are seasoned with rosemary and garlic. This is one of our most popular menus which fits the bill for so many hog roast event catering events. People often ask…. How do you cope with so many people and how long will it take? Well… 275 people is a lot to feed but it's not that bad really. We often have 500 – 800 people and sometimes more and it does take a bit of planning and experience. Every function is different and really it's a case of doing a bit of pre event planning and staffing correctly and then all runs nice and smoothly. As they want to eat between 7 and 8 so there is only an hour or so to feed everyone, our plan is to set up two serving stations so we are effectively only serving 140 people from each which makes things very simple and fairly quick.
If you have read some of our other blogs, you will know we have taken hog roast catering in Dagnall and surrounding areas to another level with the way we serve our spit roast menus. We will be offering three different flavours of spit roasted pork which is sure to tantalise the taste buds of everyone this evening. We started cooking one of the hogs at 7 o'clock this morning on a low heat, so it will have a full twelve hour's cooking time and the meat will be just falling off the bone. It's full of flavour as it is roasting in its own juices and just so moist it will melt in your mouth. We will be forking this off the bone and mixing in with the juices and it really is awesome. But we're going a bit further and I suppose this is why we are in such demand with hog roast catering, as we are striving to create dishes that leave you spell bound. So along with the most amazing succulent pork, we have made a simple marinade of chili, mint and red wine vinegar (simple is the key) and this will be mixed in with pork and it is just scrumptious. The rest of the slow roasted hog will be served as it is for those who just like the taste of the pork and then the other spit roasted pig will be sliced neatly and there will be a choice of shoulder, loin, belly and back end which again all have a different taste and texture. Oh… and then there is the crackling and it has just come up so good… Golden, crunchy and just a bit salty which is how it should be. As I mentioned earlier, our homemade apple coleslaw with a good helping of cayenne pepper really does make the difference and whether served in the bap or on the side, it just takes the hog roast in Dagnall to another level. All our pre event planning meant that we served bang on time, service was very swift and every one was served on time and there was plenty left for those who could not resist a second helping.
Now the worst bit…. Clearing up. The girls were all right as we were allowed to use the kitchen so they had dish washers and plenty of space. Unfortunately for us chefs, the heavens had opened and the wind was blowing hard and all though we are under our gazebos, its hard work when the weather is against you. Still we got there and everything was neatly loaded into the vans, ready for the next function. We had so many nice comments from the guests at the party and many people asked for our business cards as they were so impressed with the Dagnall hog roast that they will definitely consider us when organising their own parties this year.