Hog Roast Horley recently catered an engagement party for a lovely couple who knew well in advance that they wanted to treat their guests to a scrumptious traditional hog roast meal, complete with crackling, seasonal vegetables and potatoes, as well as our triple threat of homemade sage and onion stuffing, apple sauce and onion gravy. Having used our catering services before, Laurence and Michelle are big fans of our famous pigs in buns but for this special occasion, they wanted to try something different.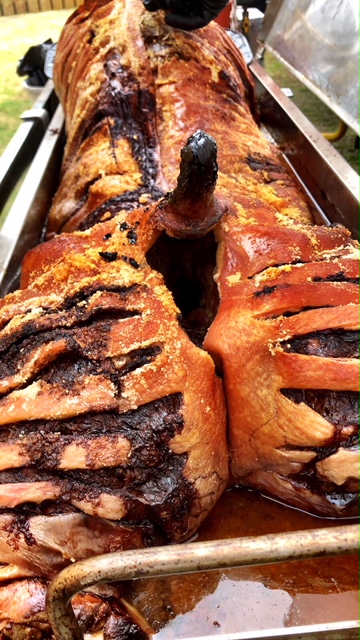 We're very adaptable here at Hog Roast Horley, as we know that variety and choice are very important to our customers, in order to ensure that all your guests are satisfied on the day. Whether you're planning a formal or informal occasion, regardless of the number of guests or location, we can work around your wants and needs, and that includes catering special diets and differing personal tastes too. We can serve canapés and drinks before a meal if you prefer, cook a barbecue or a selection of marinated meats and sides instead of a hog or spit roast, and we have all kinds of supplementary and additional dishes available too, to suit everyone.
For Laurence and Michelle's special day, however, their thirty or so guests would all be enjoying our amazing hog roast meal, cooked from scratch at the home of Michelle's grandparents.
On the day of the engagement celebration, our Hog Roast Horley chef and catering assistants arrived at the home several hours before we were due to serve the food. After setting up our gazebo, hog roast machine and serving table in the garden, first on the agenda was preparing the meat, so our chef scored it all over, covered it in water and smothered in lots of salt, and then it was cooking away under our watchful eyes.
Mid-afternoon, nearer to the time of service, while the meat was sizzling in its own juices, we freshly prepared carrots, green beans and sweetcorn, as well as new potatoes with herbs, and then these were all soon cooking away inside the hog roast machine. By 4pm, with fresh bread rolls in baskets, condiments lined up and our onion gravy ready in jugs, it was time to let the guests know that their delicious food was about to be served.