Hog Roast Bedford served 350 people at a local abattoir Wednesday in Bedford. Gavin made it very clear to catering manager Ben that everyone needed to be fed in an hour and a half as they had an exceeding busy schedule – no pressure! It was a midday serve so catering manager Ben and his team had until half 1 to serve the delicious Christmas feast!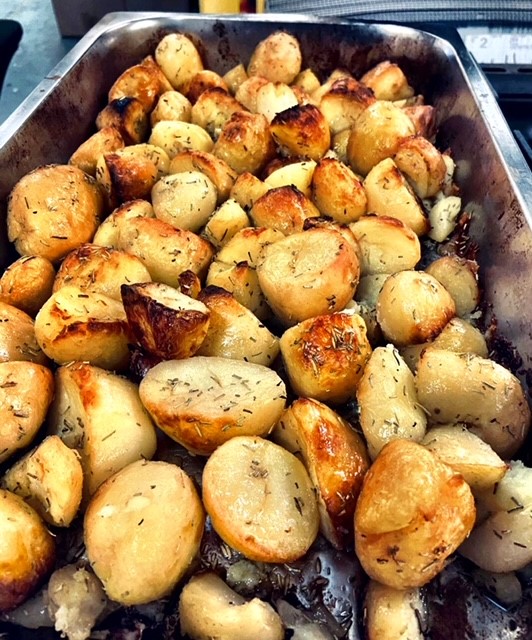 350 people is a lot of mouths to feed and involves much preparation, therefore catering manager Ben and his team arrived on site at 8:45am so plenty of time to set up and get cooking. Most preparation Hog Roast Bedford had been able to do at their facility such as part boil potatoes, make the cheese sauce for the cauliflower cheese, slowly roast the turkey's. Doing this, gave catering manager Ben a head start when on site.
Gavin had booked a tailored version of Hog Roast Bedford's festive menu which of course included the festive favourite pigs in a blanket! Who doesn't love those?! The staff were thrilled to see the pigs in a blanket on offer. Turkey is the meat of Christmas as the staff tucked in to Turkey and stuffing bread rolls and wraps. The homemade sage and onion stuffing complimented the juicy turkey well and put in the bread roll with the sweet and traditional cranberry sauce equals divine heavenly goodness! To accompany the meat selections, homemade cauliflower cheese and roast potatoes were on offer. The homemade cauliflower cheese instantly warms the soul, with extra cheesiness as catering manager Ben sprinkled cheddar cheese over the top of the already cheesy sauce. The Roasted potatoes were nice and crunchy on the outside and soft on the inside. The type of work Gavin is in, he didn't think he would have any vegetarians but Ben insisted he did a few halloumi and vegetable skewers to ensure no-one went without.
The 350 staff were ecstatic that not only were they treated to a Christmas meal, but also enjoyed Hog Roast Bedford's mince pies with a drop of brandy cream (or normal!). Everyone was pleased and very complimentary about the food. Hog Roast Bedford would like to wish everyone that they served a very Merry Christmas and hope that they complete their very tight schedule!