It was busy busy busy at Nene packaging on Thursday in Northampton. Catering manager Ben had to serve fairly quickly so that the staff could get back to work after a rushed lunch hour as business was just that crazy! Busy businesses is what we like to hear after this year with covid.
The friendly Rob is a very loyal client to Hog Roast Silverstone, this was his fourth year of booking a festive treat for his staff. The fact that Rob books each year just shows how good Hog Roast Silverstone's service and food really is! Catering manager Ben loves returning clients, especially Rob who is such a pleasure to deal with.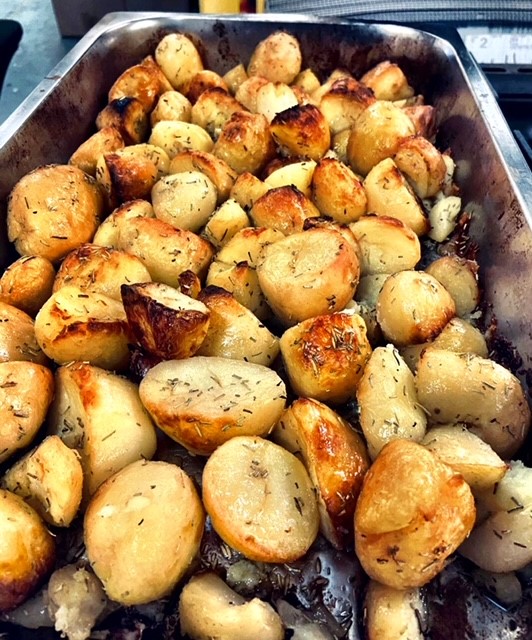 Rob chooses Hog Roast Silverstone's ultimate tasty hog roast with a side of seriously crispy roast potatoes. The roast potatoes were first boiled and then crisped by in an oven with the help of olive oil and becomes more tasteful with the help of garlic and rosemary being sprinkled in-between and top of them. The roast potatoes came out fluffy and soft on the inside and nice and crisp on the outside, just how Rob likes them. The hog roast was slowly roasted on low heat for 8 hours to ensure that the meat was tender and the crackling particularly crunchy! As the juices fill up the tray around the pig, catering manager Ben uses this to produce the most flavoursome sage and onion stuffing which is the perfect accompaniment to the pork. Pop that juicy pulled pork and stuffing into a bap with a few roast potatoes makes it a plate of pure food perfection!
Hog Roast Silverstone believes that Christmas is a time of giving, therefore as a special treat and as gratitude for Rob for his continued loyalty over the years, catering manager Ben provided Rob and his staff with a special treat…. Waffles! Not just any waffles though, warm sugar waffles with white chocolate drops, Belgium chocolate sauce and squirty-cream to top it off. Such a warm treat during this bitter winter weather.
Ben received an email of praise from Rob "Can I say a big thank you for a wonderful pig and cracking roast potatoes … It really hit the mark with everyone so thank you very much"