You may not already know that we are a year-round catering service, and that includes providing our customers with delicious grub even on the darkest winter nights, let alone at this autumnal time of year. Spit and hog roasts are not just for the warmer months; in fact, there can often be nothing more warming or comforting on a chilly night than some of our hog roast rolls or a plate of steaming hot meat and veg, even when you're partying outdoors. The latter we serve as a winter warmer menu, so you choose the roast and then pick some seasonal vegetables for us to serve alongside. You can add new or roast potatoes and gravy too, if you wish, and we can put baking potatoes in the hog roasting machine as well.
For Rebecca's 21st birthday yesterday, she asked us to serve her party guests a winter warmer of a hog roast Brighton and a vegetable medley of courgette, squash and onion, which would be roasted underneath the pig, next to some baked potatoes – one for each of them. A vegetarian guest would be able to eat the baked potato and vegetables, as they are cooked separately, and Rebecca asked for an additional dish of a veggie burger in place of the meat. We are well-versed in the art of additional dietary requirements, as we have vast experience over many years, so this is never an issue, as long as we have advance notice.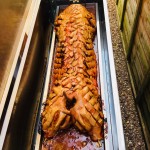 We arrived at Rebecca's family home bright and early yesterday, as we would be serving the food at lunchtime. A medium-sized hog roast Brighton takes a good few hours to roast, so we cracked on with the preparation of the meat and then turned the machine on so the beast could sizzle in its own juices. Later on, it was time to start on the fresh vegetables. We prepare all our meat, potatoes and vegetables on-site from scratch, so we sliced and diced before adding the veg and potatoes to the machine, and then kept an eye on everything as it cooked away.
Once everything was ready, Rebecca's guests started to queue up and we heard lots of lovely compliments about the sights and smells of the hog roast Brighton, so we couldn't wait for them to try the meat itself.